Heading out to Cuba and not sure what the food and drink situation is like? Have no fear, here we outline all the delights of Cuban cuisine, a fare that has historically received some (very unfair) bad press. So forget everything you've heard in the past, and try the island's favourite foodstuffs for yourself before making a judgement. You won't be disappointed you did!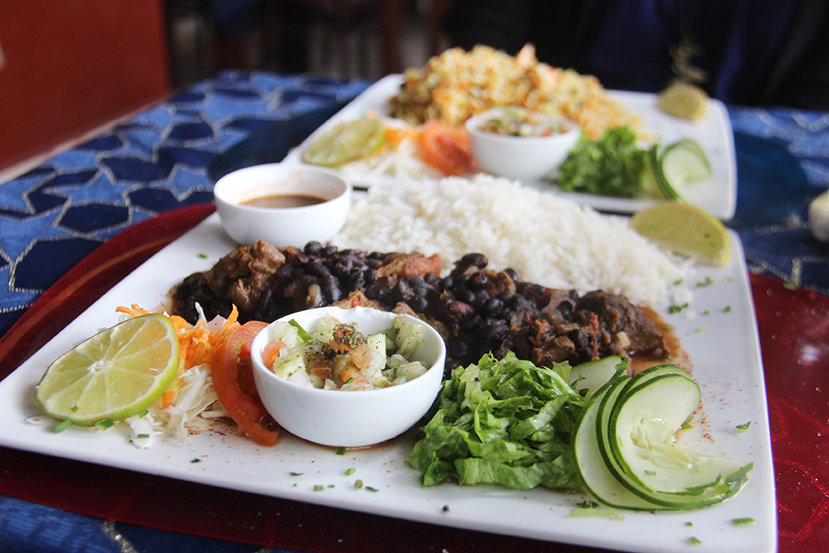 1. Omelettes
This humble French classic may not be obviously Cuban, but does play an important part in the morning ritual of many a Cuban citizen, given its place as the breakfast meal of choice. Whether you're in a small family-owned casa particular, eating in a privately-run paladares, or taking advantage of the country's hotels, you'll normally find omelettes served together with bread, fruit, and Cuba's rather potent blends of home-grown coffee.
2. Tamales
A great snack to be had on the street and a legitimate meal option too, tamales are a type of pie or pasty found in various forms across Latin America. The Cuban version sees a doughy pocket made from gluten-free corn flour filled with pieces of meat or chopped vegetables before being wrapped in corn husks or banana leaves and steamed until pipping hot. You can eat the whole thing, or opt instead to scoop out the innards and eat them alone.
3. Mixtos and planchas
Better known in the United States as the Cuban sandwich, the mixto is made from soft and fluffy white bread lightly buttered or brushed with olive oil which is piled high with pork, ham, Swiss cheese, pickles and a dash of mustard. You may also find mayonnaise, lettuce and tomato included, also traditionalists would look on in horror. A mixto can be toasted in a sandwich press a little like an Italian panini, allowing the cheese to go gooey, at which point it becomes known as a plancha.
4. Rice and beans
White rice and black beans are perhaps the two main staples of Cuban cuisine, and ones you will encounter regularly as sides accompanying other dishes. When the rice and beans are cooked together, the resulting mix is known as moros y cristianos, while if they are cooked separately before being placed on the plate together they are known as arroz con frijoles – rice with beans.
5. Plantain
Related to the banana, and looking like a giant version of the fruit, plantain is a popular – and really tasty – alternative or addition to rice and beans. Savoury, and starchier in texture than the sweet banana, if you see the sliced fruit being fried make sure you ask for some. They work excellently well as a snack on their own, or as a side to any number of dishes.
6. Comida criolla
If you have only one local dish while in Cuba make sure it's comida criolla, since this dish is a smorgasbord of various island favourites. Pick this from a menu and your plate will be loaded high with moros y cristianos, fried slices of plantain, a source of protein such a fish or meat in a stewing sauce, bread, potato chips, and a traditional salad of tomato, cucumber, lettuce and sliced cabbage. Enjoy!
7. Beef dishes
There's no hiding the fact Cuba remains a culture where meat plays a significant part in main meals, though knowledge of vegetarianism is steadily growing. While chicken and pork are without doubt the most popular meats prepared, beef also plays its part in the Cuban diet. Two dishes that use braised skirt steak are ropa vieja and vaca frita. Ropa vieja sees the steak slowly stewed in a tangy tomato sauce until tender, while vaca frita is braised with a mix of herbs and spices before being served with sliced onions and peppers (and, of course, some white rice too).
8. Fresh fruit
Cuba's fresh fruit shouldn't be overlooked when thinking about the island's food. The warm year-round climate means there's no shortage of fresh tropical fruits, from coconuts and grapefruit to oranges, mangoes, papaya, pineapples, avocado and guava. Also don't miss the chance to try mamey, a fruit native to the island with a unique flavour which hints at pumpkin, peach, and almond. The downside to Cuba's focus on locally-grown produce is that you might only encounter a couple of in-season fruits during your visit, although you could always use this as an excuse for a return trip!
9. Rum
Originally a by-product of the sugar cane industry that brought riches to the land owners of Cuba, rum is intrinsically linked with the island. Bacardi white rum was created in Santiago de Cuba back in 1862, though the Havana Club brand is best known on the island today. Rum is the backbone spirit for many important island cocktails, not least the cubata (or Cuba Libre) and mojito, while the daiquiri was also invented on the island and is said to have been author Ernest Hemingway's favourite tipple.
10. Devilled Crab
First created not on Cuba but by Cuban expatriates in nearby Florida, devilled crab croquettes, or croqueta de jaiba, are traditionally served for lunch or as an easy to eat snack. They are prepared by gently sautéing the meat of the blue crab with a sauce of tomatoes, onions, peppers, and mixed herbs known as chilau. The mix is then formed into shapes the size of a palm, rolled in freshly-prepared breadcrumbs, and then deep fried. For those who like their crab really hot, they are served with various spicy dipping sauces.
11. Turron
Cuban Turron, better known as peanut nougat, ticks all the boxes for anyone with a sweet tooth. Though you can find blocks up to a kilo in weight, it's more usual to buy a smaller piece ready for snacking on there and then. It comes in two equally satisfying forms, blando, which is made from ground peanuts blended with brown sugar, and duro, made up of roughly chopped peanuts bound by sugar or honey.