Fun things to do in Trinidad, Cuba?
Trinidad, a charming colonial city on Cuba's southern coast, is a rich repository of Cuban history and culture. With its vibrant streets, well-preserved buildings, and lively ambiance, There are lots of fun things to do in Trinidad for visitors.
In this article, we'll look into 10 enjoyable things to do in Trinidad, Cuba. Read this and you'll make sure you get the most out of your time in this wonderful destination.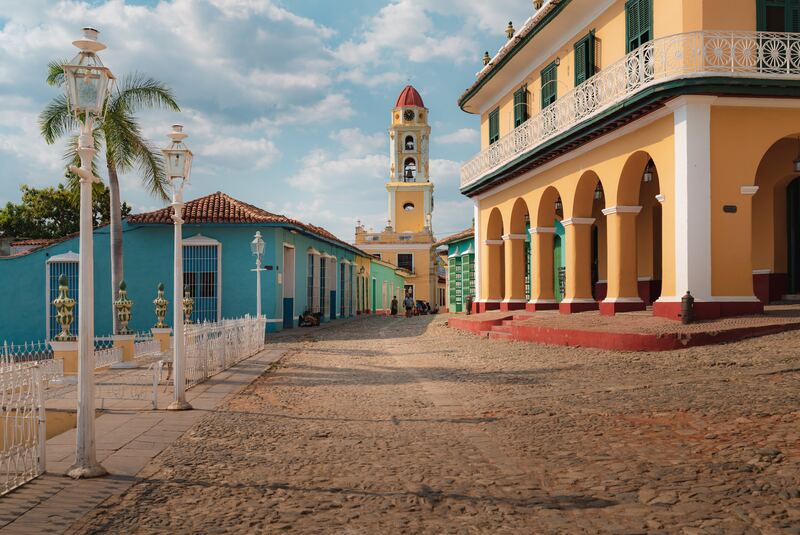 1. Explore the Historic Centre: Step Back in Time
Start your journey by delving into the history of Trinidad's historic center. Enjoy a leisurely walk along the cobblestone streets and admire the charming pastel-colored colonial buildings of this UNESCO World Heritage Site. The Plaza Mayor, the central square of Trinidad, is the best place to start your tour.
2. Visit Museo Romántico: Relive the Romantic Era
Step into Museo Romántico and journey back in time into Trinidad's romantic past. This beautifully restored mansion, provides a glimpse into the lives of the city's affluent residents in the 1800's. Here, you can admire the opulent furnishings, beautiful artwork and elegant decor that reflect the grandeur of the past.
3. Climb the Tower of Manaca-Iznaga: Witness Panoramic Views
For stunning panoramic views of Trinidad and its surroundings, visit the Tower of Manaca-Iznaga. Located in the nearby Valle de los Ingenios (Valley of the Sugar Mills), this tall structure provides an great view of the valley. From the top you'll be get a sweeping view of the lush valley and its historical sites
4. Dance the Night Away at Casa de la Música: Salsa and Rhythm
When the sun sets, Trinidad comes alive with infectious music and dance. Head to Casa de la Música, a vibrant open-air venue, and let the lively rhythms of Cuban music move your feet. It doesn't matter whether you're a skilled salsa dancer or a novice eager to learn. Casa de la Música is the perfect spot to dance the night away immerse yourself in the energetic nightlife of Trinidad.
5. Discover Playa Ancón: Beach Bliss at Your Fingertips
Escape the city's hustle and bustle by relaxing on the white sandy shores of Playa Ancón. Located just a short distance from Trinidad, this picturesque beach is renowned for its crystal-clear waters and immaculate white sandy beaches. Here you can spend your day leisurely swimming in the warm Caribbean waters. Alternatively you can go snorkeling around the vibrant coral reefs. As far as fun things to do in Trinidad go this ranks highly!

6. Horseback Riding in the Valle de los Ingenios: Embrace Nature's Beauty
Embark on a memorable horseback riding adventure through the picturesque Valle de los Ingenios, a captivating valley brimming with natural beauty. As you saddle up and traverse the lush landscapes, you'll pass by sugar cane fields and historic ruins of old sugar mills. This immersive experience allows you to truly immerse yourself in the serenity of the valley and gain a deeper connection to Trinidad's storied pas
7. Indulge in Cuban Cuisine: A Gastronomic Delight
No visit to Trinidad would be complete without savoring the delectable delights of the local Cuban cuisine. You can sample traditional dishes, such as ropa vieja (shredded beef), congrí (rice and beans), and tostones (fried plantains). Moreover, the choice of restaurants in Trinidad is endless. This allows you to engage your taste buds in a culinary journey that beautifully showcases the fusion of Afro-Caribbean and Spanish influences.
8. Explore the El Cubano Natural Park: Nature's Retreat
Venture into the El Cubano Natural Park, an enchanting oasis located just outside Trinidad. The park has numerous hiking trails that wind through lush forests, leading you to hidden waterfalls and natural pools. Take a dip in the cool waters, marvel at the diverse flora and fauna, and relish the serenity of this natural retreat.
9. Wander through the Art Galleries: Appreciate Local Creations
Trinidad is a hub for artistic expression, and exploring its art galleries is a must for art enthusiasts. For instance, you could visit the Galería de Arte Universal or Galería de Arte Colonial to admire a diverse collection of paintings, sculptures, and crafts created by local artists. By doing so, you can fully immerse yourself in the vibrant art scene of Trinidad and actively support the talents of Cuban creatives."
10. Join a Salsa Class: One of the most fun things to do in Trinidad
Immerse yourself in the rhythm of Cuba by joining a salsa class in Trinidad. Here, you'll have the opportunity to engage with professional instructors who will expertly guide you through the vibrant dance steps and teach you the essence of this iconic Cuban dance. Regardless of whether you're a novice or have some experience, embracing the salsa culture in Trinidad is an exhilarating way to connect with the local spirit.
How do I get to Trinidad, Cuba?
Trinidad is accessible by domestic and international flights via Cienfuegos or Abel Santamaría Airport in Santa Clara. From there, take a bus or taxi to Trinidad. Alternatively, you can reach Trinidad by bus from other Cuban cities or hire a private car and driver.
Is Trinidad safe for tourists?
Trinidad is generally considered a safe destination for tourists. However, it's always important to take basic safety precautions like avoiding isolated areas at night, keeping an eye on your belongings, and being aware of your surroundings. As with any travel destination, it's a good idea to stay informed and follow local advice.
Are there any recommended day trips from Trinidad?
Yes, there are several day trips you can take from Trinidad. A popular option is to visit the beautiful waterfalls and nature trails of Topes de Collantes. But also try exploring the Valley of the Sugar Mills to discover the history of the once booming sugar industry. After that you could take a short trip to see the beautiful colonial architecture of nearby Cienfuegos.
What is the best time to visit Trinidad, Cuba for fun activities?
Trinidad is accessible year-round. The dry season, from November to April, is ideal for outdoor activities and city exploration. The weather is pleasant, with warm temperatures and fewer chances of rain. However, this period also marks the high tourist season, so booking your accommodation and any activities in advance is advisable.
Fun things to do in Trinidad: Conclusion
Trinidad, Cuba, boasts a wide array of activities for every interest. From exploring the historic center to enjoying salsa dancing and culinary delights, there's something for everyone. Immerse yourself in the city's vibrant culture, natural beauty, and captivating history. There is no shortage of fun things to do in Trinidad!