What is Casa Particular Accommodation?
A casa particular is a uniquely Cuban alternative to hotel accommodation. But what exactly is it, and how do they compare to hotels? We've outlined everything you need to know about Cuba's bed and breakfast scene below.The term casa particular (casas particulares in plural) is simply Spanish for 'private house' and defines family-run homestays – a form of Cuban bed and breakfast. As a result they are completely unique from one another, and generally small, with a maximum capacity most often of 2-4 rooms (although there are some exceptions).Clean spaces located in residential areas, and run by local Cuban families as a secondary source of income, casas (as they are frequently simply called) are a great way to interact with ordinary Cubans and often become the highlight of a visitor's stay in the country. They are a fantastic way to experience the new wave of Cuban Entrepreneurship that has been taking hold since the Cuban government loosened some restrictions In 1997, and allowed families to register their home as a privately owned business and rent out rooms to foreigners.Casa Particulares are often also referred to as Casa's, Cuban B&B's or Guesthouses.
Hotel versus Casa
First and foremost, all Cuban hotels are nationalised is some way – meaning they are owned and run by the government (solely or in a joint venture with a foreign organisation). The only way to put money directly into the hands of the locals is therefore to stay in a casa. But how does a casa compare to a hotel?Firstly your host family will do everything they can to make you feel welcome. In fact, the level of service is often far better than that you'll find in a hotel and in some destinations casas have actually become the preferred accommodation option even when compared to the local 2*, 3* and 4* hotels options.Especially designed for foreign visitors, casas are often better equipped and decorated than your host's own rooms, and must legally reach a certain minimum standard to receive a casa licence from the government. Rooms may be smaller than a standard hotel room (but not always), but there will generally be some sort of shared living space inside or out.
Individualism is key
Direct comparisons between casas can be difficult since each casa, and indeed each room within a casa, can be different. However, in general you will find a clean and comfortable private room.That each casa is unique is part of the charm of staying in this form of accommodation. Generally Casa owners will offer breakfast – either continental or cooked. Many casas also offer additional services and facilities at an extra cost. Home-cooked meals are often available at lunch and dinner, as are laundry services and purchases of items such as drinks and cigars.
Our Casa Network
We have a network of Casa's across Cuba that we use for our group and private Cuba tours. These casa's have been selected based on the following criteria.- Cleanliness - Warmth and enthusiasm of the host family - Reliability - Location / Safety - Facilities and comfortWhenever we book a Casa room, we like to make sure it has air-conditioning and ensuite bathroom facilities wherever possible.There are two categories of Casa's we book in Cuba.
1) Authentic Standard Casas
The authentic standard casas we book offer a fantastic cultural experience for visitors to Cuba, whether it's your first time in the country or if you are a more frequent visitor. For our standard authentic casas we focus on selecting only the best host families in the most convenient and central locations. Although each casa is unique, the standard casa's we book will generally have a bed, cupboard and chair as a minimum, as well as en suite facilities and air conditioning. Towels and soap are also provided by the Casa for guests. We use authentic standard Casa's for the group tours we run in Cuba.Some Examples include:Casa Martha in Havana Hostal Plaza Vieja 1910 in Havana Casa Jesus in Trinidad Casa la China in Vinales
2) Upgraded Boutique Casas
Our upgraded boutique casa options still provide you with a fantastic cultural experience of daily life with local Cubans, but with a little more comfort than a standard casa is able to offer. For the most part these upgraded Casa's are newly renovated, and will always have en suite facilities and air conditioning. Many are run more like a boutique bed and breakfast or small hotel with a superior level of service and unique extras such as a roof-top terrace , refrigerators and restaurant/ bar area. They offer hot and cold running water at good pressures and better quality mattresses and towels than our standard option. Upgraded Boutique Casa options are most common in Trinidad and Havana and are what we use for accommodation where possible on the private Cuba tours we run.Some examples include:Casa Alta Habana in Havana Havana Dreams in Havana Hostal San Juan in Havana Casa Vivien y Pablo in Trinidad Casa Naveda in Vinales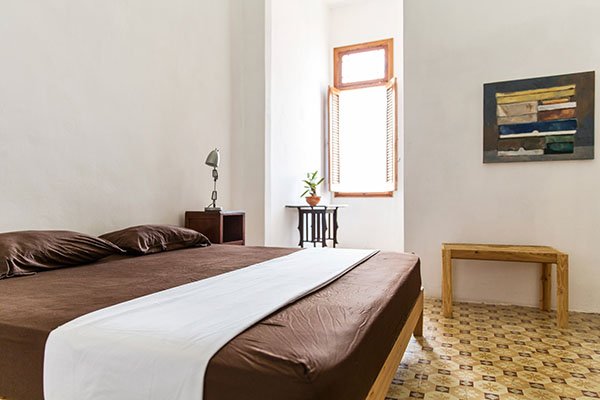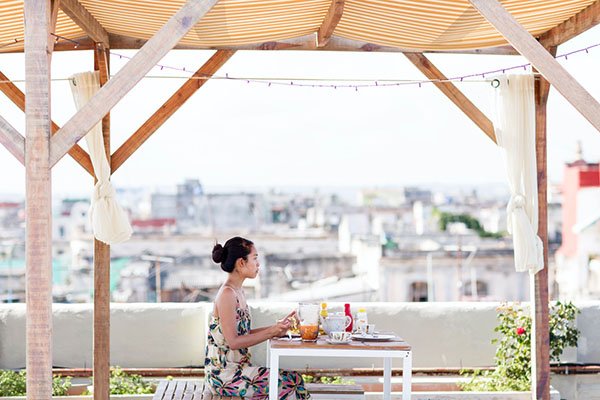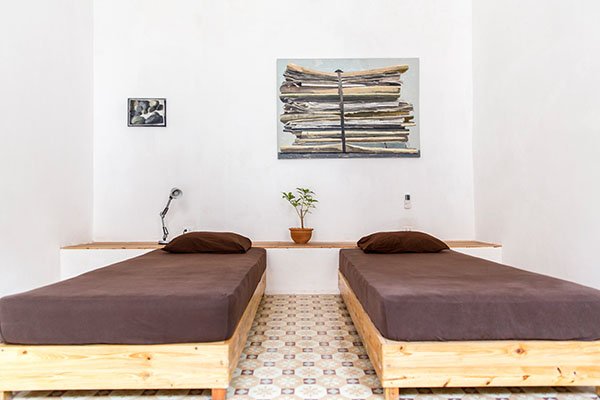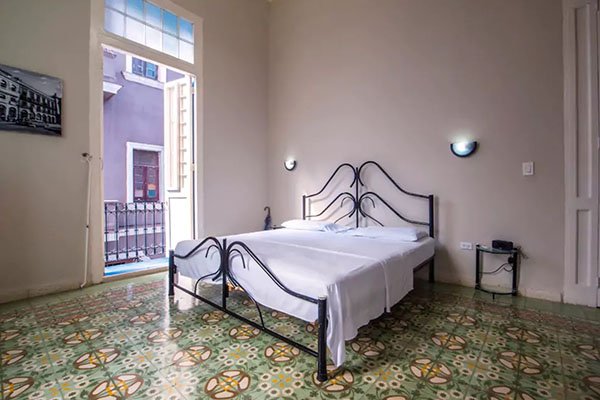 3) Superior B&B's
These are run more like small boutique hotels. Generally the rooms are beautifully dressed and there is a reception area.Some examples include:Casa Madero in Havana Prado Colonial in Havana La Casona in Trinidad