10 fabulous and famous landmarks in Cuba you say? Well you can keep your Eiffel Tower! There are many famous landmarks in Cuba and while they're not as famous as their international cousins, this doesn't make them any less stunning.
So what are some of the landmarks that you should visit on your trip to Cuba?
1. The Final Resting Place of an Adopted Cuban Hero
What: The Che Guevara Mausoleum
Where: Santa Clara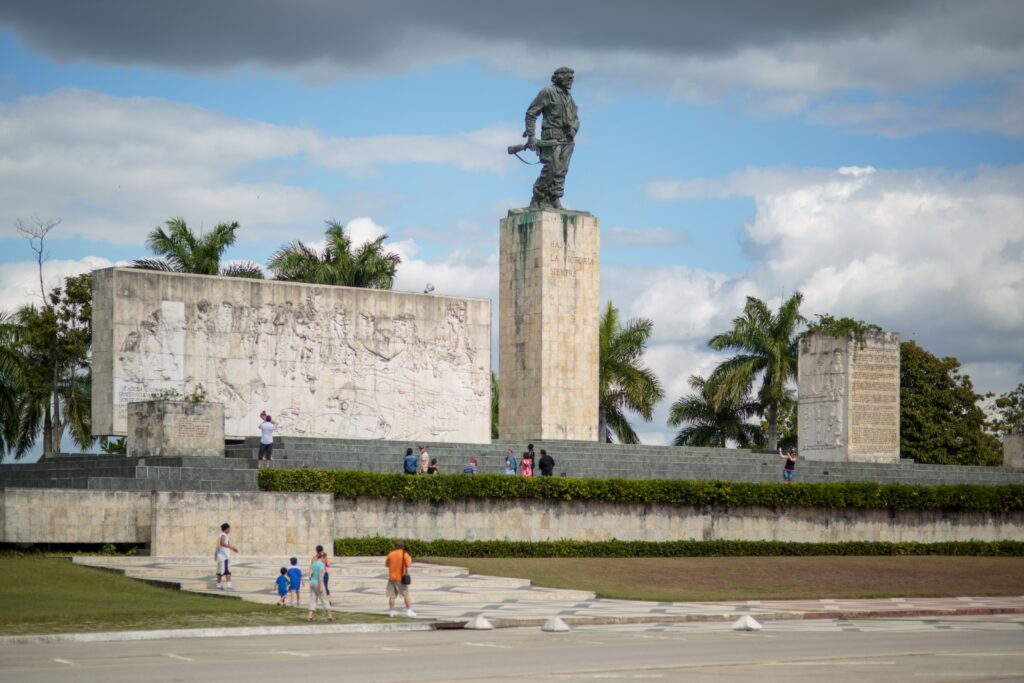 While you may not agree with his politics, Che Guevara's life and struggles remain fascinating. The Argentinian played an important role in the Cuban Revolution and died in Bolivia in 1967, sparking three days of nationwide mourning in Cuba. His remains were brought back from a Bolivian mass grave in 1997 and laid to rest in Cuba.
A mausoleum was specially erected in Santa Clara to commemorate Guevara's command of troops in one of the final battles of the Cuban Revolution. Although the mausoleum was completed in 1988, it was almost a decade before Guevara's remains were finally placed inside.
2. Lifestyles of the Rich and the Famous
What: Hotel Nacional de Cuba
Where: El Malecón, Havana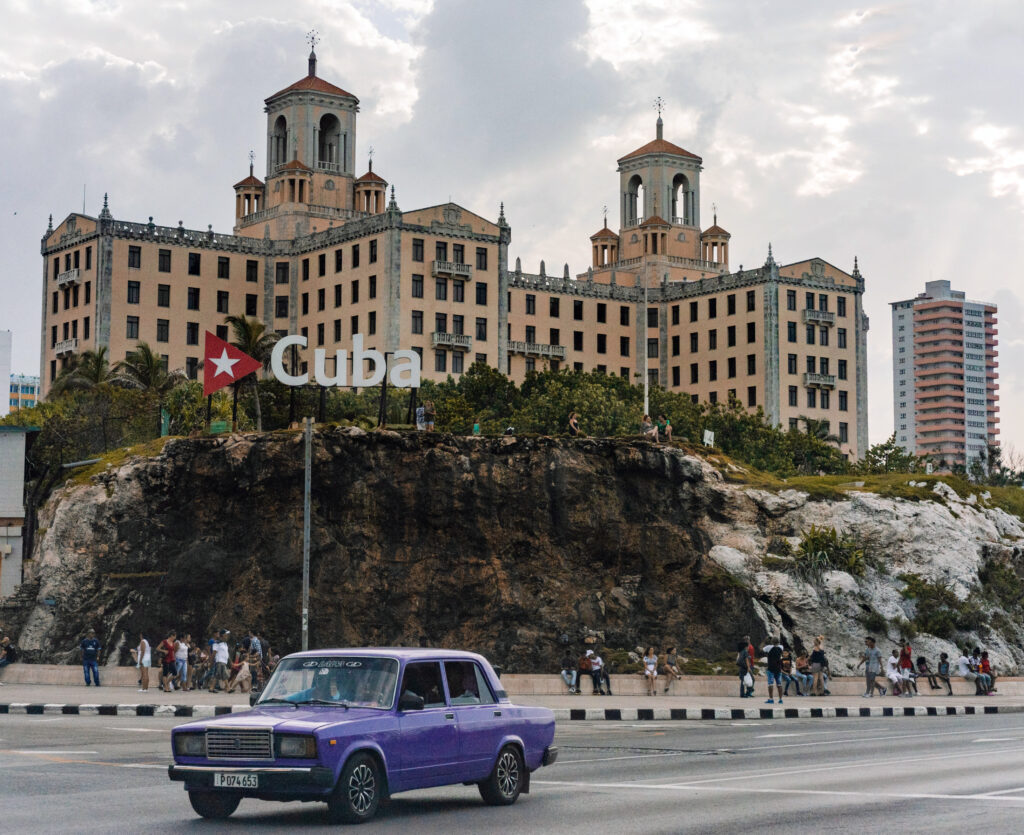 In 1961, relations between the US and Cuba came to an abrupt end. But before that, the Hotel Nacional de Cuba was like a who's who of the golden age of Hollywood.
Many famous actors and actresses made the short trip to Cuba for some indulgences in the tropics. Today, the hotel remains one of the most famous landmarks in Cuba.
Stepping into the Hotel Nacional de Cuba is like stepping back in time. The stunningly beautiful hotel was completed in 1930, but its style makes it look even older. It's extremely well-preserved which isn't always the case in Cuba.  Even if you can't afford to stay in this lavish hotel, you should at least stop by for a drink. Best come at sunset to sip a Mojito and watch the sun go down over the ocean.
3. One of the First, and One of the Most Famous Landmarks in Cuba
What: Cruz de la Parra
Where: Baracoa
The isolated town of Baracoa was reportedly the first place where Christopher Columbus landed when he came to Cuba. The town itself is amazing to visit, and is very different from the rest of Cuba. It was briefly the fledgling country's capital city, but Havana took the title due to the isolation of Baracoa (for a while it could only be reached by boat).
Baracoa is the site for the Cruz de la Parra, which is a cross that was erected by Columbus in 1492. Erecting crosses was a common thing on the voyage, but the Cruz de la Parra is the only one that has survived. It can be found inside a church (the Iglesia Parroquial Baracoa).
4. A Monument to a Cuban Hero
What: José Martí Anti-Imperialist Platform
Where: Vedado, Havana
José Martí was a Cuban writer who died fighting against the Spanish in 1895. There are a number of sites in Cuba named after him, such as the next item of this list of famous landmarks in Cuba. If you flew into Havana, you would have landed at an airport named after him too.
The José Martí Anti-Imperialist Platform is a public square next to the newly-reopened US embassy. It's used for festivals and concerts, and is notable for its 138 flags on 20-meter high poles. Each of these flags symbolise a Cuban victim of terrorism.
5. The Best View of Havana
What: José Martí Memorial
Where: Vedado, Havana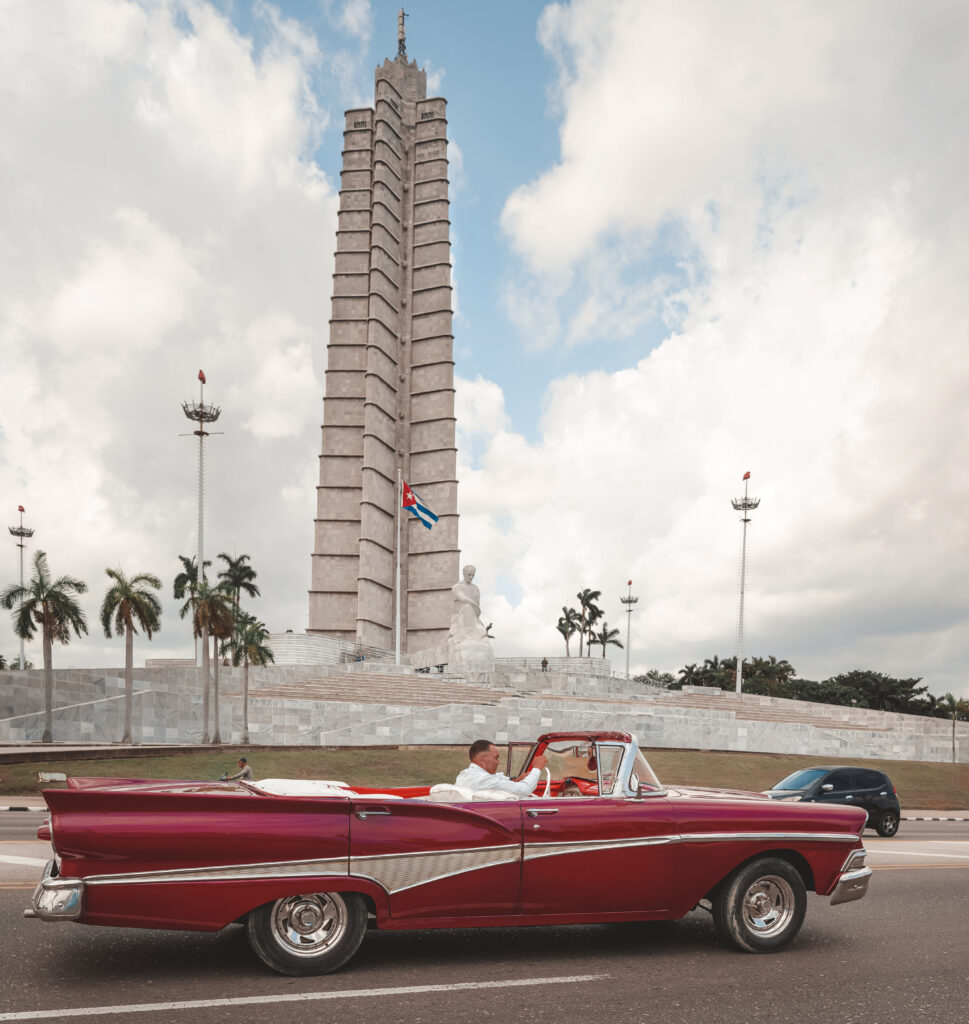 The José Martí Memorial, a 109-meter-tall tower stands in the centre of Plaza de la Revolución. At its base is the José Martí Anti-Imperialist Platform. The tower is a stark yet beautiful monument with an austere, basic design. It's certainly worth a visit to purchase a ticket and go up to the top for a panoramic view of Havana.
Work began in 1953 on the 100th anniversary of José Martí's birth and was completed in 1958.
6. Art Colony in Central Havana
What: Callejón de Hamel
Where: Centro Habana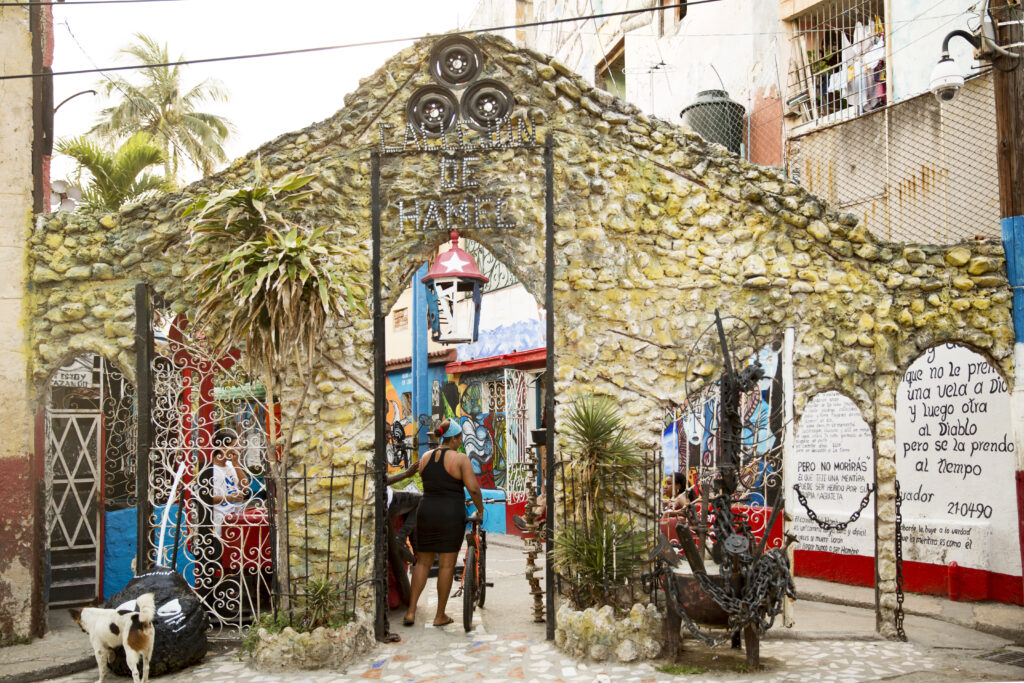 The Callejón de Hamel is essentially a small alleyway in central Havana where a number of artists are based. There is so much brightness and color here, and the alley is decorated with some remarkable murals. It's truly a must-see when it comes to the most famous landmarks in Cuba.
A number of artists have their workshops here too, and you can visit to see them work (and to buy some artwork, naturally).
7. Borrowed from Washington?
What: El Capitolio
Where: Paseo de Martí, Habana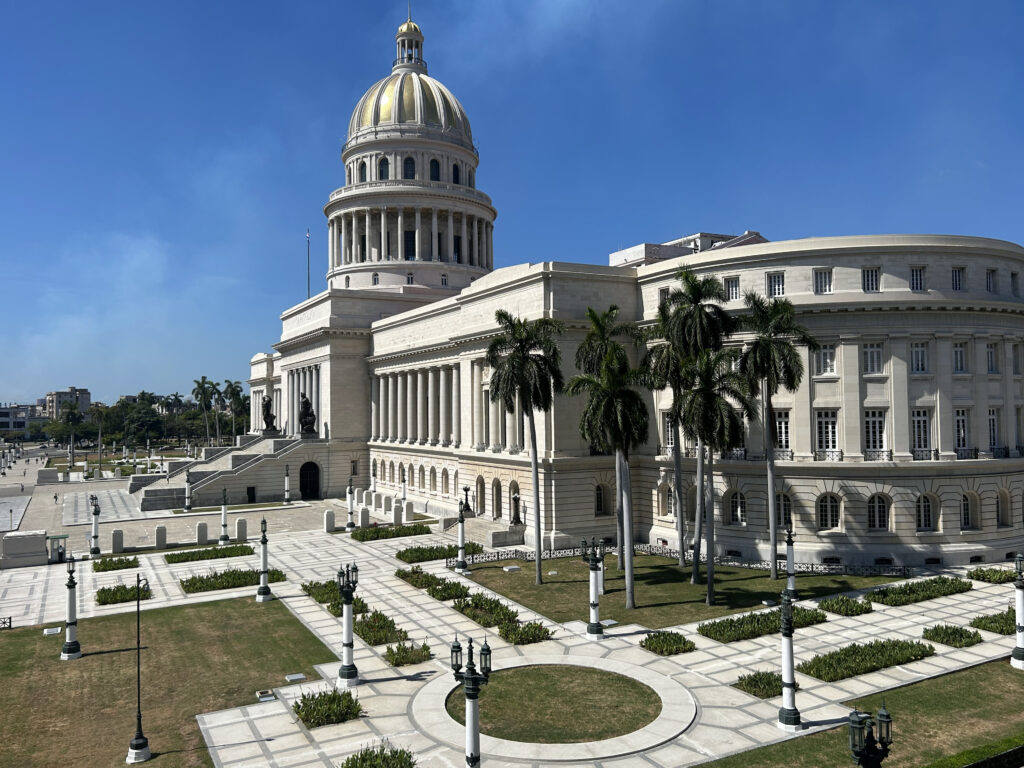 Upon catching sight of Havana's El Capitolio Building, you might be forgiven for thinking you were in a more tropical version of Washington, D.C. Completed in 1929 as Cuba's seat of government, the building served as a museum and office building for several decades after the revolution. It is now being refurbished to once again house the Cuban government.
Its resemblance to the US Capitol building is striking, and perhaps it was inspired by its older counterpart. After all, the US Capitol was completed in 1800, nearly 130 years before El Capitolio.
8. El Malecón by the Sea
What: El Malecón
Where: By the harbor, Havana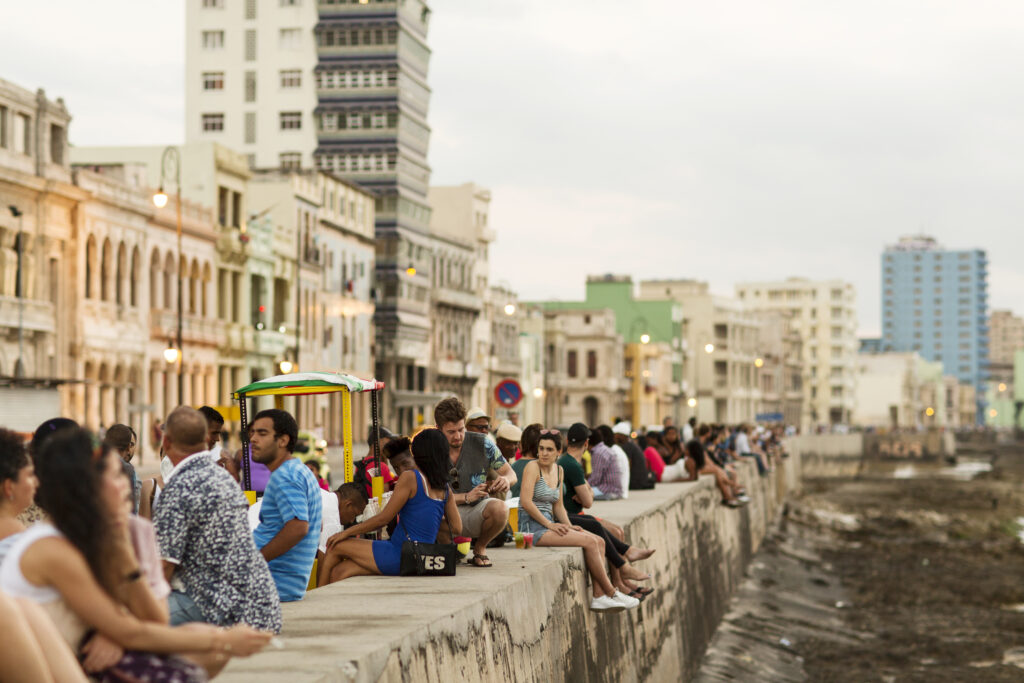 If you come to Havana, chances are that you will visit El Malecón at least once, even if you don't quite know it. If you visit the harbor, then you will probably have found the Malecón. It's a 5-mile long esplanade that stretches along the harbor and the social hub of Havana.
It's where the locals come to relax and enjoy a cold beer and an ocean breeze. There is so much life here, and you should spend a few hours strolling along it.
9. A Dark History
What: Manaca Iznaga Tower
Where: Valle de los Ingenios (close to Trinidad)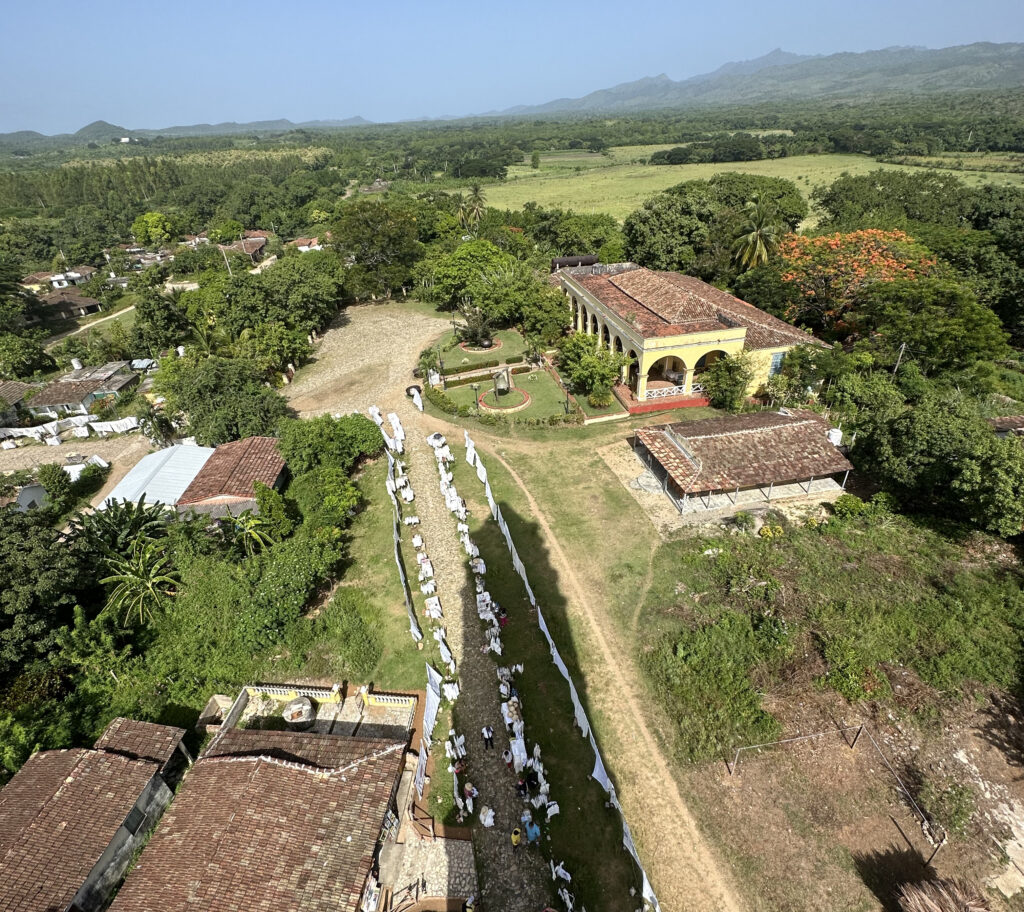 The historic Valle de los Ingenios (Valley of the Sugar Mills) lies just outside of Trinidad, Cuba. Once the center of Cuba's vast sugar production empire, most of the mills now lie in ruins. However, the Manaca Iznaga Tower remains, a stark reminder of the valley's past.
Plantation owners used the tower to supervise their slaves and track the frequent escapees. Today, visitors can climb the tower for breathtaking views of the valley and to contemplate its rich and complex history.
10. Literary Cuba
What: Finca Vigía
Where: San Francisco de Paula (close to Havana)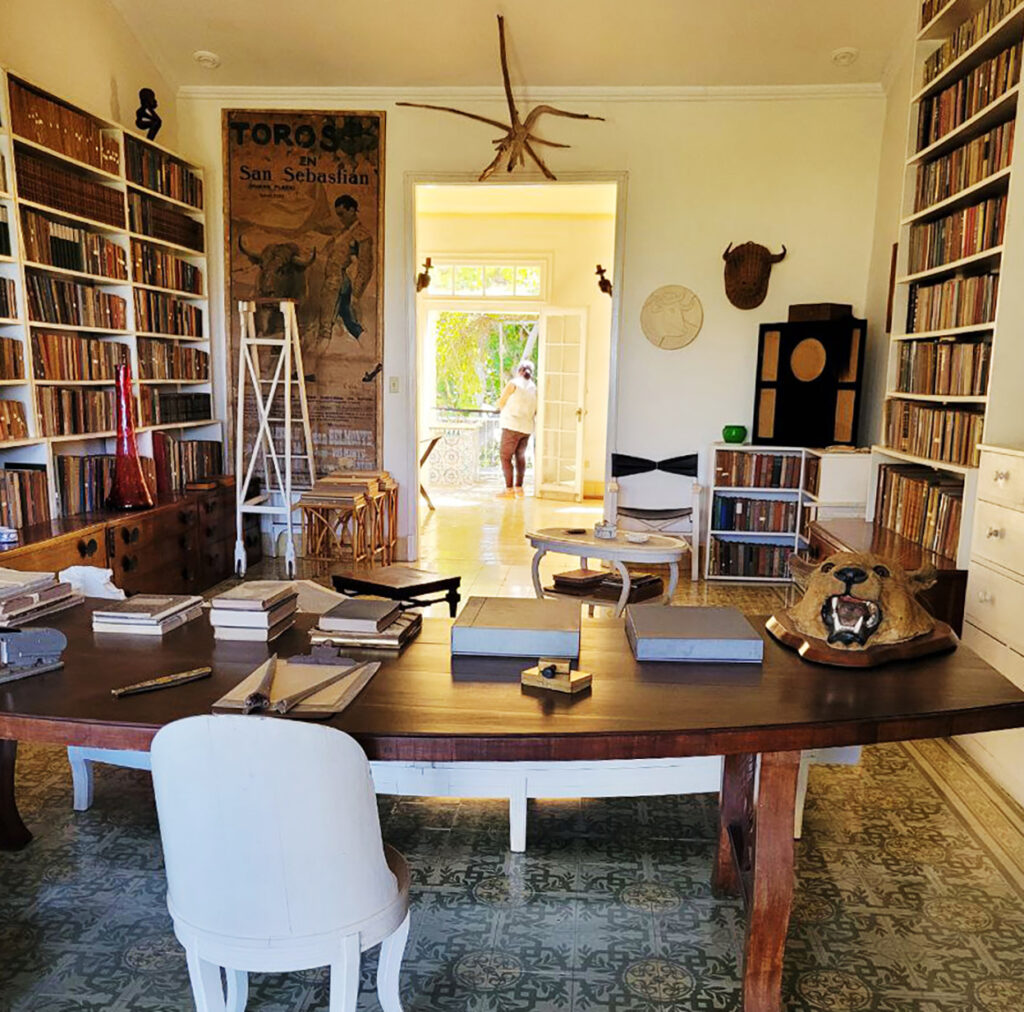 Much like Che Guevara, Ernest Hemingway is foreigner who will forever be associated with Cuba. Hemingway's former home just outside of Havana is now a museum dedicated to his memory. The lavish and yet tasteful property was Hemingway's home from 1939 to 1960, and it was given to the Cuban people after his death in 1961.
It fell into disrepair, and opened in its current state in 2007 after extensive repairs.
It really is a beautiful place to visit, and to escape the hustle and bustle of Havana.