The oldest Spanish colonial city in Latin America and possibly its most vibrant, Havana offers the visitor an enormous array of things to do. From its wealth of architectural history, its connection to Nobel Prize winning author Ernest Hemingway to its rooftop bars and colourful street life, there's never a dull moment in this city.
So to get you started we've compiled a list of 9 of our favourite activities for you. We're sure you'll find your own little piece of Havana!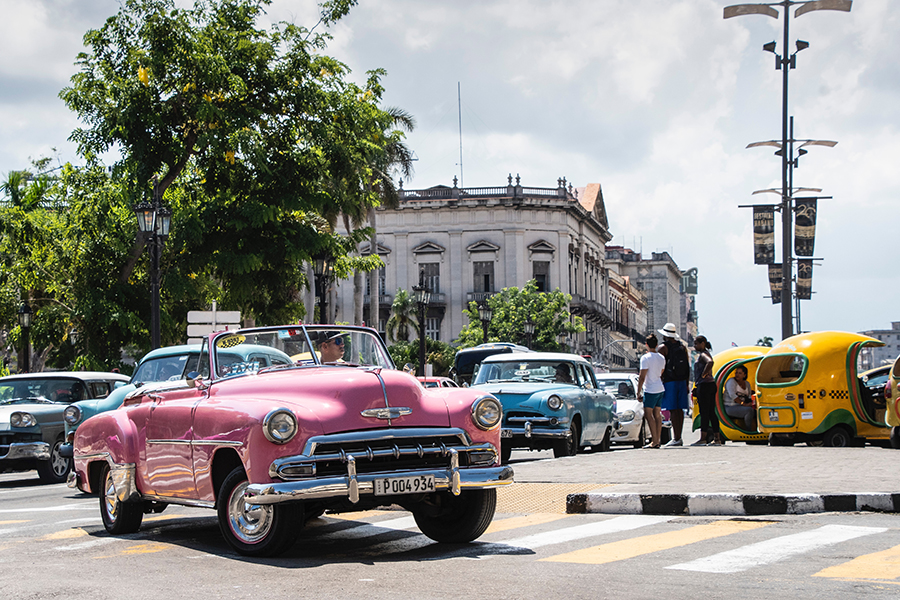 Dine at a paladar, you're actually in someones home!
While independent restaurants might be taken for granted in your home country, they remain something of a novelty in Cuba after 60 years of communist rule, with some private busines only legally permitted to operate in the late 1990s. Only now can visitors to the island enjoy freshly prepared and authentically made meals created by everyday Cubans themselves, opening up a new window into Cuban culture, customs, and tastes. As well as Cuban favourites such as ropa vieja (pulled beef steak), there are generally pizzas and burgers on offer, though your main problem will probably be deciding which fantastic paladar to choose!
A Caribbean sunset from a rooftop bar
Havana has a number of tasteful rooftop bars to choose between, in small-scale casa particulares bed and breakfast accommodations and in the large government-owned hotels. What unites them are the incredible vistas they offer across the rooftops of the capital towards Habana Vieja (colonial Old Havana) and probably the best rum-based cocktails you've ever let pass your lips (at impressively low prices to boot!). You can't really say you've been to Cuba without having sampled a mojito, or a daiquiri, one of Ernest Hemingway's favourite drinks.
Head to one of the many local beaches
It's unusual for a capital to be able to boast a decent beach which is more than just convenient, but Havana certainly manages it. A short drive east by taxi or bus you'll find Playas del Este, a string of fine sand beaches complete with shade-giving palms and turquoise waters. Popular with locals, particularly at the weekend, they are large enough that you'll never feel lost in the crowd even on a Saturday or Sunday. If you've the family in tow, you might prefer the beaches of Varadero roughly two hours from the
capital, where a series of resorts alongside 20 km of beautiful beaches make for a great getaway from the centre of Havana.
Explore Old Havana, one of the oldest colonial towns in Latin America
Forming the downtown area of Havana, on the western side of the bay, Habana Vieja has been a UNESCO World Heritage Site since 1982 as a result of its colonial core. Dating back half a millennium, this part of the Cuban capital boasts a plethora of stunning buildings in the baroque and neoclassical styles, including the Capitolio building, Gran Teatro, Museum of the Revolution (the presidential palace before Castro's communist takeover) and imposing cathedral. Incorporating several pleasant squares, slip on your walking shoes and explore as many of these photo-worthy streets as you can manage!
Take a ride in a classic American car
If walking all becomes a bit too much, or if you'd like to head further afield in the capital, consider making use of the city's delightful taxi fleet. An absolute must when it comes to things to do in Havana is to take a ride in one of the city's classic cars – originally imported from the US in the 1950s –they still ply the streets of Havana. The main reason is the American trade embargo that makes it prohibitively expensive to import newer vehicles to the island, however the indirect result is an ageless feel to both the ancient and modern streets of Havana.
Discover the secrets of Cuba's most popular exports
We're not suggesting you become business analysts on your trip to Havana, oh no! What we mean is visiting the museums and factories dedicated to Cuban cigars and to rum – a spirit first created on the island. The Havana Rum Museum sits within a converted old palace, and gives you the chance to learn all about the rum making process from start to finish (including a tasting session at the end). Meanwhile, the Partagas Cigar Factory gives a look behind the scenes at the effort required to create Cuba's famous smokes.
Follow in Ernest Hemingway's footsteps
There are a number of spots in Havana connected to American literary giant Ernest Hemingway, from boxing clubs to bars. However, one of the most important has to be his former home on the outskirts of Havana. Hemingway lived in Finca Vigia (Lookout Farm) for roughly a decade, before being forced out by the communist revolution. His home, where we wrote works including The Old Man and the Sea, was seized by the regime, who eventually turned it into a museum dedicated to the author, which contains much of his original furniture, and his beloved library of thousands of books.
Dance the night away to Cuban Salsa
The birthplace of salsa, dance is an incredibly important part of Cuban culture and self-expression. Even if you're less than confident on your feet when the live band starts up, visiting one of the capital's dance halls is a great thing to do in Havana. Check out Salon Rosado de la Tropical on Avenida 41 for a mix of salsa, timba, and reggaetón, while the former factory that houses Fabrica de Arte Cubano is popular with Cuba's youth due to its live DJ sets. If you'd rather enjoy watching someone else do all the fancy footwork, then head for the Tropicana, who's cabaret shows are known world over.
Take a stroll along the Malecon
Stretching from Habana Vieja to the Vedado neighbourhood by way of Centro Habana, the Malecon is the name given to the eight-kilometre seafront promenade that is an important part of everyday Havana life. You'll find friends, families, and couples strolling along its broad pavements at all times of day, although it becomes its most atmospheric once the sun has set and the street lights have flicked on. By then the capital's residents have finished work and use the Malecon as a way of getting some much-needed exercise while catching up with friends.
Unsure where to start your discovery of the Cuban capital? You shouldn't be now, after reading our top suggestions on the 9 best things to do in Havana!