Situated almost 900 kilometres away from the Cuban capital of Havana, at the extreme east of the island nation, Santiago de Cuba has a personality all of its own and one you definitely don't want to miss.
Here we've put together a list of the must see things to do in Santiago de Cuba, so you don't have to waste any of your precious time in the city!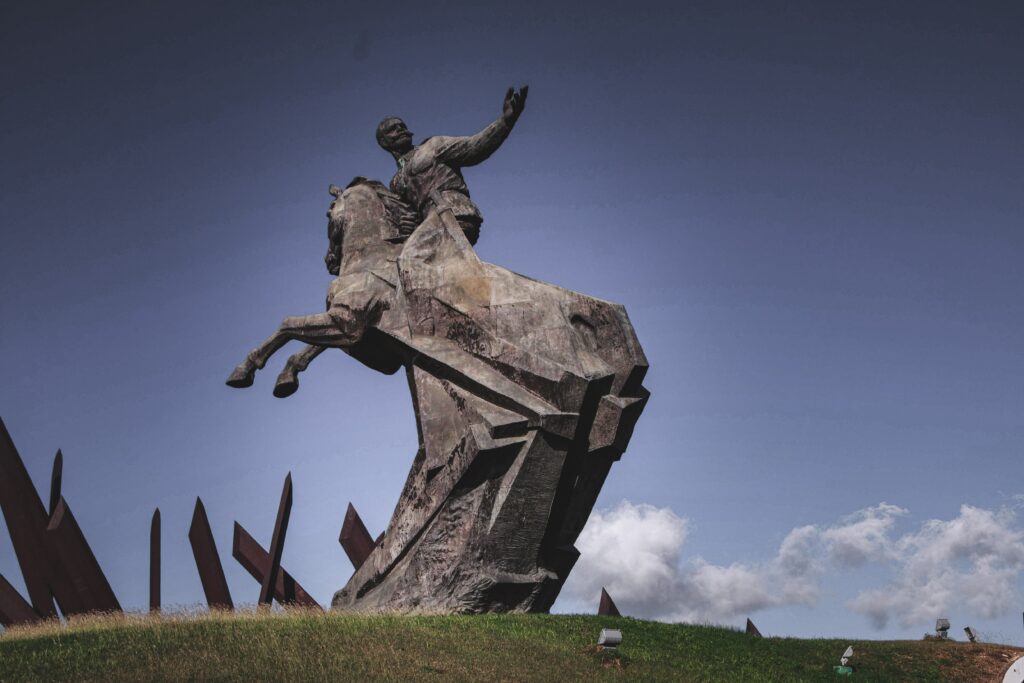 Antonio Maceo, Revolution Square, Santiago de Cuba
Explore Santiago de Cuba's history
Santiago was one of the original 'seven settlements' founded by the earliest Spanish colonists to the island, with the city founded in 1515. Cuba's first cathedral was built here as early as 1528, and Santiago de Cuba actually served as the island's capital right up until 1589. Take that Havana!
The city started to take on its multicultural flare with the influx of slaves from West Africa, bringing their own cultural practices and slowly amalgamating them with those of the Spanish over decades. The feeling of Santiago as a melting pot of cultures only increased in the late 1700s, with an influx of both British and French immigrants seeking refuge from other Caribbean islands.
More recently, the first shots of the Cuban revolution were fired in Cuartel Moncada former military barracks, part of which has been converted into a museum where you can learn more about how the revolution came about.
It was also in Santiago de Cuba that Fidel Castro declared his communist revolution victorious from the balcony of Santiago's city hall on January 1 1959. After his death, his ashes were interred in the city's Santa Ifigenia cemetery, where you'll also find those of Jose Marti, Cuban national hero and poet. Don't miss the changing of the guard ceremony that takes place here every half an hour throughout the day.
Check out Santiago de Cuba's cultural offerings
Visiting the Emilio Bacardi Moreau Museum is definitely a must see thing to do in Santiago de Cuba. Dating back to the 1920s, the museum was created to house the extensive collection of art and curiosities gathered by the Bacardi family. For a taste of rum itself you'll need to head to the former Bacardi factory, still producing the spirit (but not under the Bacardi brand), and with an onsite bar for trying out its products.
Another absolute must is experiencing Santiago's very own dance style – son. It's from son that the better-known salsa ultimately derived, and the city is very proud to show off its unique heritage. You won't have any trouble finding a dance hall to check it out for yourself, such as the city's offshoot of the Tropicana Nightclub, with other venues including the Casa de la Trova, and the Casa del las Tradiciones.
Of course, the best way to experience Santiago's fine dance and music would be Carnaval, which takes place every year in July. But if you can't be there for then, don't worry, the dedicated Carnaval museum holds daily music and dance events for visitors.
The city also has its own religious leanings, with a significant number of residents continuing to adhere to the santeria faith, a combination of Catholic Spanish religious traditions and those of Vodun (or Voodoo) beliefs originating in West Africa.
Taste your way around the city
As things to do in Santiago de Cuba go, they probably don't get much better than tasting some of the city's finest offerings of food and drink! You certainly don't have to splash the cash to get the best of what's on offer, with plenty of roadside stalls and family-run paladares restaurants providing exquisite meals at great prices.
What probably makes the simple cuisine of the city taste so good is the fact almost everything you eat will have been produced locally, with vegetables having travelled just a couple of kilometres from an allotment on the edges of the city right to your plate.
And there's the rum! Though no longer home to the Bacardi factory, there are still plenty of opportunities in Santiago de Cuba to get your hands on a mojito or a daiquiri.
Shop till you drop
You're never going to find mass produced souvenirs in Santiago (or really anywhere in Cuba) making a spot of shopping another of our things to do in Santiago de Cuba. A great place to start are the small independent stalls that you'll find at the ancient Castillo de San Pedro de la Roca – universally better known as El Morro. The vendors here have a fine range of wooden and woven crafts, from sets of dominos to sun hats, to choose between, at what are actually very good prices.
Alternatively, you could head to Enramadas Street. Perhaps the best shopping street in downtown Santiago, this pedestrianised thoroughfare not only has a whole host of small stores to pop into and check out, but pleasant shade giving trees to sit beneath and plenty of bars and cafes should you wish to stop for a little longer.
Take in the views
Great views in Santiago de Cuba tend to go hand in hand with a cocktail in a hotel bar, but we say that's no bad way to spend a sunset, so have added taking in the views to our list of things to do in Santiago de Cuba.
Head to the top of the towering Melia Hotel Santiago de Cuba and you'll find phenomenal 360-degree views of the city – ancient and modern – with the beautiful mountains providing an equally fine backdrop come day or night. Another great option is the rooftop patio on the fifth floor of the Hotel Casa Granda on Cespedes Square. It can get busy, so make sure you grab a seat when you can!
Things to do in Santiago de Cuba
We think you'll agree there's a huge number of reasons to make your way to Cuba's east and visit the fine city of Santiago de Cuba.
Whether you're looking to explore the city's long and illustrious history, check out its fascinating cultural offerings, taste your way around the city, shop till you drop, or simply take in the incredible views from a rooftop bar mojito in hand, we know you'll appreciate your time in Cuba's second city.