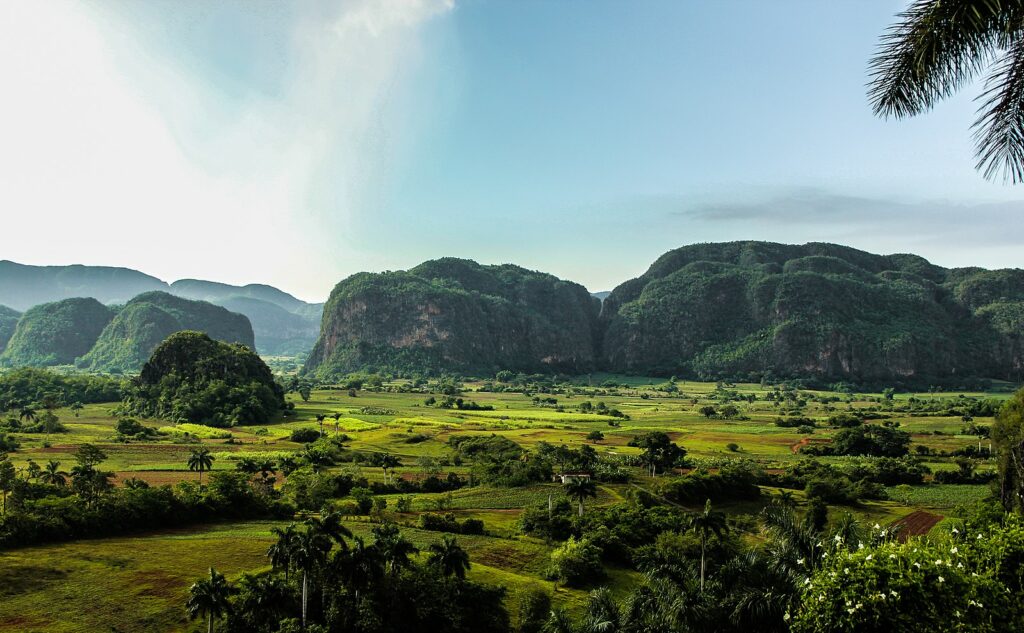 It would be a bit of a stretch to call the Cuban town of Viñales a hidden treasure. You may or may not have heard about this stunning little town before? But it has been a popular spot in Cuba for generations. Lonely Planet has been raving about Viñales for decades. The New York Times recently included it on a list of must-see destinations. Relations between the US and Cuba are warming up after too many years of frostiness. So now it's becoming easier for US tourists to discover the joys of Viñales for themselves (along with the rest of Cuba).
You might be wondering about the "ñ" in Viñales. Whenever you see the letter "n" written like this in Spanish, pronounce it like there was in a "y" immediately following it. So while it's spelt as Viñales, it is in fact pronounced as Vin-yah-les.
OK, now you know how to say it! But what is it about this little slice of heaven that will make you want to stick around for a while?
Where to Find It
A short day trip from Havana, Viñales is located within the Pinar del Rio province. However it's only 185 km (115 miles) southwest of Havana. It only takes about 2.5 hours to reach Viñales from Havana by car. This means that it's a top destination for weekend trips, or even a day trip. There are daily bus services to and from Havana, and nearby Pinar del Rio, the capital of the province.
Viñales is an inland town located in a lush valley, and the town was founded in 1878. It's not a particularly old settlement. However much of the town looks exactly as it did more than a century ago. This is part of the appeal of Viñales – to give you that feeling of stepping back in time.
A Living Museum
Viñales has taken an interesting approach when it comes to how the town looks. This is something that can be seen in other towns and villages throughout Cuba, but it seems as though Viñales has taken it to wonderful extremes. 
You will be struck by the use of colour throughout the town. Individual buildings are painted in bold, bright colours, with little uniformity.
One house might be painted lime green, with their neighbour's house being painted a rich, deep purple. It's a wonderfully weird look, although the buildings in the centre of town have kept a colonial appearance. You will see farmers working in the surrounding fields, transporting goods by horse and cart. This is not some show that is being put on for tourists, it's simply how things work around here. The high number of visitors who come to Viñales daily inject the town with a sense of vibrancy. But the town itself remains authentically and wonderfully old-fashioned in many respects.
The Birthplace of Cigars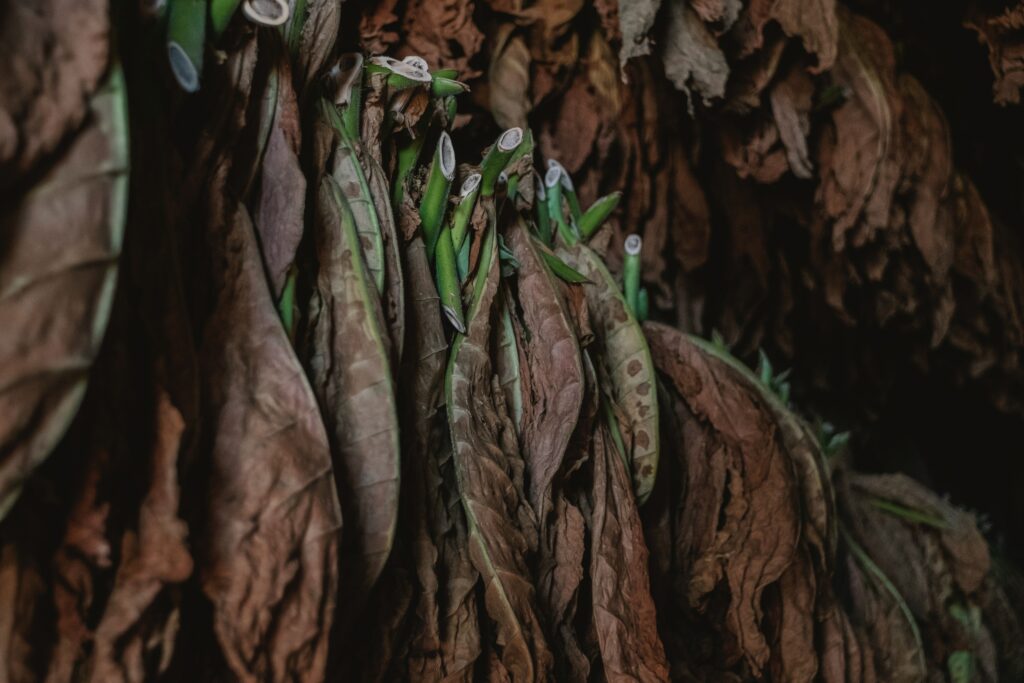 While tourism is a vital industry for Viñales, it's not the only show in town. Those lush green plants in the fields surrounding Viñales are largely tobacco crops. Many of the cigars on sale in Cuba are made from tobacco that was grown in these parts. Viñales itself doesn't produce cigars so the dried tobacco is sent to Havana and other towns to be hand-rolled.
Sure, you can find cigars on sale in the town, but chances are that the tobacco was grown in Viñales. They are of course hand rolled elsewhere. It's possible to get a tour of the tobacco fields and to see where the tobacco is dried. But please don't wander aimlessly through the fields since they are actually private land.
Viñales Botanical Gardens
Head to the Casa de Caridad Botanical Gardens, at northern edge of Viñales. It's free to enter, but it's appropriate to give a small tip if you take one of the guided tours. The grounds are beautiful and the plants are bountiful, and there are generally a lot of tropical fruit on the trees. Ask your guide if you can enjoy a sample. You should also keep your eyes peeled for delicate hummingbirds as they dart between the plants and tree
The Natural Beauty of the Valley
Apart from the actual town of Vińales itself there is a lot to do in the surrounding countryside. The landscape is gloriously undeveloped and while you can explore the area, the activities on offer are not at all obtrusive. This preserves the serenity and the beauty of the Viñales Valley, but you could say that such preservation is legislated.
The whole valley is a UNESCO World Heritage site, protecting it just as it is. This means that the available activities allow you to get back to nature. You can hike the foothills of the nearby Sierra de los Órganos mountain range just using the official trails.
Just keep the town within sight and you won't get lost. If you want to get further into the mountains and try a bit of rock climbing best book a guided tour. There are plenty of options to do this in the town itself. If you want to explore the countryside without doing the walking yourself, try a guided horse trek.
You can also quite literally explore the underside of the valley. There are a number of limestone caves around the town and the most popular is the Cuevas del Indio (Indian Caves), located some five km outside of Viñales.
It has been converted to be people-friendly, meaning that lighting and a handrail have been installed. For the more adventurous, there's the Gran Caverna de Santo Tomás, which is the largest underground cave in Cuba. You may only come to Viñales for the day, but it's so utterly charming that you'll want to stay longer.
Nightlife in Vinales
You will want to spend your evenings downtown. The Casa de la Cultura hosts music and dance most evenings. But in addition you could check out El Viñalero. Or a little further out of town lies Bar El Conguito with its scenic views and great local rum.