Las Terrazas and Soroa lie within Cuba's westernmost province, Pinar del Rio. Although only 70 km or so from Havana, they offer visitors a whole other side to the island than the capital does. As a result, it's well worth making the short journey west to the sublime countryside that encapsulates the eco-resorts of both Las Terrazas and Soroa. Looking for things to do in Las Terrazas Cuba? Or Soroa? Or both? Keep reading to discover more!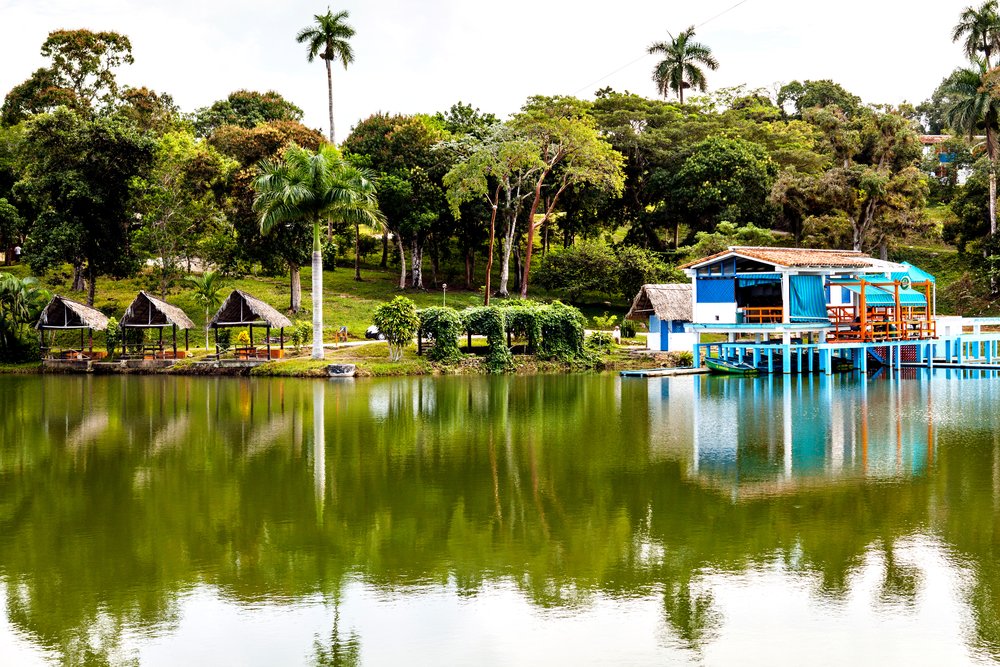 Top things to do in Las Terrazas Cuba
Without doubt, the biggest attraction for visitors to Las Terrazas is its stunning natural beauty. Boasting verdant greenery, rippling lakes, and wondrous mountain scenes, many are surprised to learn that recent habitation of the area only dates back to the late 1960s, when a determined effort was made to reforest the area after years of heavy logging.
Many are also surprised to learn that Las Terrazas is the site of a canopy tour by zip-line! One of the best things to do in Las Terrazas Cuba as a result, the series of six lines starts at the hotel (you can't get confused, there's only one, the eco Hotel Moka) and runs right over the village, crossing the nearby lake not once but twice!
Visit the old coffee plantations
Las Terrazas was actually first stumbled upon by French Haitians in 1790, and it wasn't long until they began planting coffee on man-made terraces from which the village takes its name. Unfortunately, it was impossible to create a viable industry out of the coffee planted here, and people soon turned to tree felling instead. However, the ruins of the plantations are a wonderful way to spend the day, with that at Cafetal Buenavista one of the best preserved. Here you'll uncover the remains of the bean drying houses, an ox-driven grinder, and former slave quarters two centuries old, in addition to a pleasant restaurant and fab views.
Bathe in the river
The Baños del Rio San Juan are a number of small bathing points formed within the river. They provide a fantastic way to cool off when Cuba's heat might get a little too much, and also have a lovely setting for a picnic or place just to relax one afternoon. Picnic tables overlook the baths, as do a number of cabanas – small three-sided shelters that offer some privacy without hiding or spoiling the river's natural beauty.
Head out on two or four feet
This beauty, and that slightly further afield, can also be explored on both two and four feet. A good number of hiking trails of various lengths wind their way through the mountainous scenery around Las Terrazas, which has been part of a UNESCO biosphere reserve since 1985. Not only are these trails great for hikers, but also for bird spotters – woodpeckers, the Cuban tody, and Cuban trogan have all been sighted in the area – and those who just adore a phenomenal view too! Alternatively, why not consider uncovering all Las Terrazas has to offer on two wheels rather than two feet. Bicycles are available to rent, and motorbike tours also an option!
Check out the ambience
In the rush to check out all the things to do in Las Terrazas Cuba, don't forget to check out this small village itself. Although many of its buildings might look a little worse for wear, with fading white paint covering their concrete constructions, they hide a wealth of surprises.
Stroll around Las Terrazas and you'll quickly discover all manner of artist's studios displaying the works of sculptures, paintings, and pottery, all made by locals with an unbelievable skill. And should you get hungry – as surely you will after all these activities – there are also a good number of atmospheric restaurants to eat in and meet some of the locals too!
Soroa
Roughly 20 minutes by road from Las Terrazas is Soroa, which takes its name from the French owner of a nineteenth century coffee plantation. Set in another beautiful valley, Soroa is a further retreat where the environment is put front and centre. One of its main attractions is the Soroa Orchid Garden, which, needless to say perhaps, is home to several thousand orchids belonging to 700 different species.
Stretching over a hillside dotted with greenhouses, ferns, and mature trees, the Soroa Orchid Garden is the best place to see the 250 species of orchid that are native to Cuba (as well as a great many more besides), and enjoy the tranquillity of this spot of paradise. Founded in 1943, to get the most out of your time at the Orquideario, as it's known locally, make sure you take the services of an expert guide.
Soroa on two and four feet
Like Las Terrazas, Soroa is also a fantastic Cuban destination for getting out into the great outdoors – less than two hours from Havana remember. Hiking trails and horse tracks lead to a huge array of hidden delights, including the lookout point of Mirador de Venus, which offers some of the area's most magical views of all, and the waterfall El Salto that tumbles more than 22 metres through the dense foliage into a natural swimming pool below.
It seems astonishing that Las Terrazas and Soroa should be such a short distance away from the delightful hubbub of Cuba's capital. Seemingly a whole world away, both eco-resorts are easily reached by bus, car, and taxi, with many people choosing to make an excursion from Vinales to visit the two valleys. Reading this, we're sure you'll want to add the two resorts to your upcoming itineraries too!