Cuba offers you an unforgettable holiday experience, no matter whether you're on your own, with your partner, or with a few friends. Cuba for families really can't be beaten though. There's so much to see and do, all without the rampant consumerism that exists in so many destinations.
There's culture, stunning nature (that is brilliantly kid friendly), and of course there's rum and cigars for you when your kids have gone to bed.
So what are the five key reasons why Cuba makes an excellent choice when it comes to your next family holiday?
1. A More Authentic Experience For Families

There's nothing wrong with indulging your children. Having said that, it can be refreshing to take your children somewhere that the usual types of indulgences aren't available. There are no fast food chains in Cuba (yet, anyway), so your kids won't see the Golden Arches and begin to demand a burger.
There's just less consumerism in Cuba. It's not as though you can take your children to a theme park with countless stores selling plastic toy versions of their favourite cartoon characters. Cuba for families offers an arguably more authentic experience, where you and your family can explore a wonderful, vibrant foreign culture together.
There are no generic entertainment options here, and this is a brilliant feeling. Sometimes it's nice to go somewhere which has different stores, restaurants, and entertainment options than the rest of the world. It can be strange to go to London or Sydney and to already have heard of most of the stores and dining venues.
2. Cuba for Families (Where You Can Find a New Family)
It's likely that you will stay in a casa particular for at least part of your stay in Cuba, as these are more widespread and less expensive than hotels. A casa particular is a privately-operated bed and breakfast place. It's not necessarily a dedicated accommodation facility, and is usually a Cuban family who rent out their spare rooms or a section of their home to make a little extra money. It's really quite a unique experience, and is quite different to a bed and breakfast place in most other parts of the world.
Your new Cuban family will make you and your children feel incredibly welcome, and it can almost feel like you're staying with your actual family.
They know the best places for children to play in the local area, and your children can learn a lot from staying with a Cuban family (as will you). It's a fascinating insight into daily life for average Cubans. Of course, it's not as though your Cuban hosts are going to pester you and lavish you with attention if it's unwanted. If you and your family want to be left alone, then this is totally fine and nobody will take offense.
3. A Little Bit of Luxury
While you want to make sure that your children have an interesting, enriching, and fun time in Cuba, you might also want to have a bit of time to chill. Cuba for families doesn't mean you family needs to be together at all times! Even if you want an authentic travel experience, a bit of luxury doesn't go amiss either.
Consider buying a day pass for one of the many luxury resorts that dot the coastline. Some of these day passes are all-inclusive and will cover entry, use of all facilities, and even food and drink. Some will only allow you to access their facilities, and it's important that these facilities include a kid's club. You can leave your little ones to their supervised fun while you and your spouse or significant other can sip a cocktail on the beach (which is sometimes even a private beach).
Sure, it costs a little bit of cash, but hey… it's your holiday! Pretty much any of the towns or cities will contain a suitable beach resort, but if you're in Havana, then you should think about a day trip to Varadero (about two hours by car).
The beaches and resorts are of a much better quality.
4. A Natural Wonderland
When it comes to enjoying the natural world in Cuba for families, then yes, there are a number of zoos and animal parks. The zoo in Havana is particularly lovely, but there's no need to see animals and wildlife in captivity. The nature reserves of Cuba (of which there are many) offer a chance to see some stunning landscapes along with some fantastic creatures. Look for hummingbirds and bats in the hills and caves around Viñales.
More adventurous families might appreciate a trip to the Jardines de la Reina (Gardens of the Queen), a beautifully well-preserved marine area off Cuba's Southwest coast. Aquatic life lives here in abundance, and you might even see a rare whale shark (remember that they don't actually attack people like most kinds of sharks).
The beaches with their mild waves are also ideal for even the youngest members of your family.
5. Cuba For Families and Kids Are Welcome!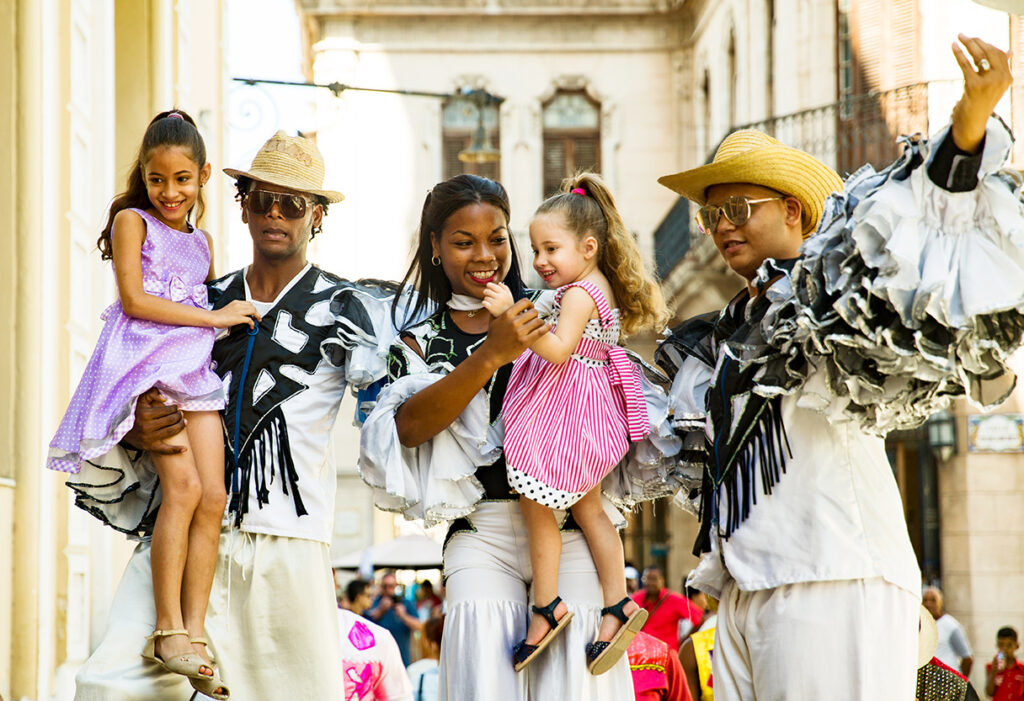 Perhaps more so than in other countries, children in Cuba are included in all aspects of life. OK, so maybe not all aspects. You're not going to run into a 10-year old sucking on a cigar late at night in a back alley of Havana. There are special activities for children, but when it comes to Cuba for families, kids can come along most of the time.
There's no such thing as a child friendly business in Cuba, as it's naturally assumed that everywhere is. The only exceptions are the logical ones, such as bars and cigars. But when you go dancing or to an art workshop, chances are that you'll see children participating alongside their parents.
To find out more on how to travel Cuba with kids check out our blog!