You can have an unexpected Cuban adventure that might not be so well known and this can be refreshing. It can feel close to a revelation to come to a place and experience an unforgettable adventure that was entirely unexpected. 
There will still be time to partake in the usual suspects during your time in Cuba (cocktails, cigars, salsa dancing etc. However you should find time to have at least one of these sensational adventures while you're in Cuba.
Down the Sheer Face
Have you heard of Mogotes? These are utterly stunning types of small mountains, looking like domes that were simply dropped onto an otherwise flat piece of land. They're usually comprised of limestone, marble, or dolomite (or a combination) and are somewhat of a geological rarity. You can find them in a few places such as Vietnam, Puerto Rico, and in Cuba.
The odd shape of these rock formations often result in sheer faces down the sides, and this makes them perfect for abseiling. This is certainly a Cuban adventure you should treat yourself to. You will find these mogotes in and around the town of Viñales (about 2.5 hours from Havana by car). It should go without saying that you should only abseil with a guide and the correct safety gear.
Hitchhiking: Another Way to Travel
Do you like to explore places using little more than an upturned thumb and a hopeful smile? In some countries of the world, hitchhiking is not something you would want to do. But hitchhiking your way around the island is an excellent and extremely safe Cuban adventure. 
Many towns and cities have designated pick up spots on their outskirts, and government vehicles are legally obliged to pick up hitchhikers. A chance to meet the locals, see the countryside and get to where you need to go. It's expected that you will offer a little bit of money to go towards fuel, but it's still a shockingly cheap way to travel.
A Reptilian Cuban Adventure
Chances are that you will spend the majority of your time in Cuba on the main island, and yet there is so much more to see just lurking offshore. The geographic isolation of the island has resulted in an ecology that has flourished without much outside interference. To see a particularly interesting part of the ecology is a particularly easy Cuban adventure. All you need to do is catch a ferry to Isla de la Juventud just off the southwest coast. This takes anywhere between two and six hours depending on which service you choose. 
On the island you can use local transport to be taken to observe one of the many colonies of Cuban rock iguanas. These lizards can easily grow to more than a metre in length, and they have simply flourished on Isla de la Juventud. It's fascinating to take a day out of your Cuban itinerary to simply sit and watch these mammoth reptiles. Be sure to keep a safe distance, and never forget that they are in fact wild creatures.
Soaring Above the Trees
Las Terrazas was once a place of natural beauty, before falling into disrepair through unsustainable agricultural practices. And yes it started way back in the time of Spanish colonisation. It wasn't until 1968 that a scheme spearheaded by the late Fidel Castro sought to rejuvenate the area. It had striking results. Earth-filled terraces were built into the sides of the hills to allow for crop cultivation. It also allowed nature to rehabilitate itself (with the help of some intensive replanting efforts). 
The entire area is a now a biosphere reserve and the best way to see it will result in a truly memorable Cuban adventure. Soar above the forest canopy of Las Terrazas with a zipline tour for an adventure that you would regret missing out on.
Let's Go Caving!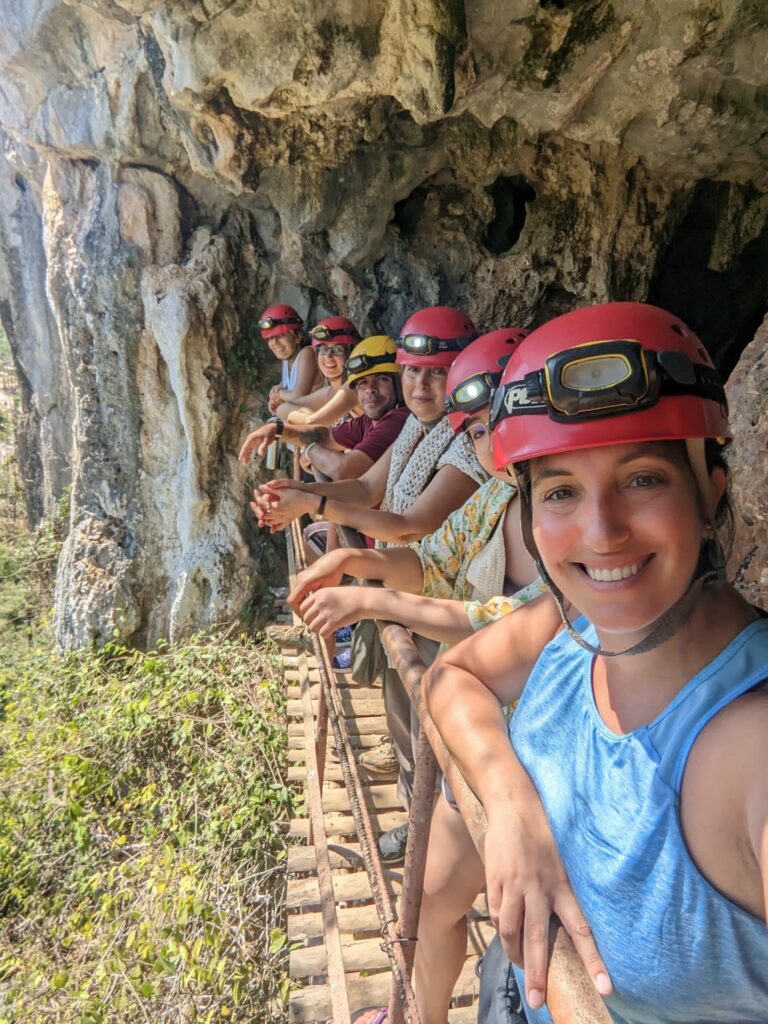 Caving is officially a thing in Cuba. In and around the town of Viñales you need to check out the caves in this region. There are safe cave experiences such as the Cuevas del Indio, where handrails, stairs, and even lighting has been installed. Cuevas del Indio, has an underground river at the complete with a boat ride to give the place a bit of a theme park experience.
But for a more raw cave experiences such as the Gran Caverna de Santo Tomás where you must hire a guide and the right safety gear. Unless you want to spend the rest of your time in Cuba trying to find your way back up to the surface. The region contains 45 kms of documented caves in this system, so you don't want to make a wrong turn!
Do you have any questions? Feel free to send us an email!