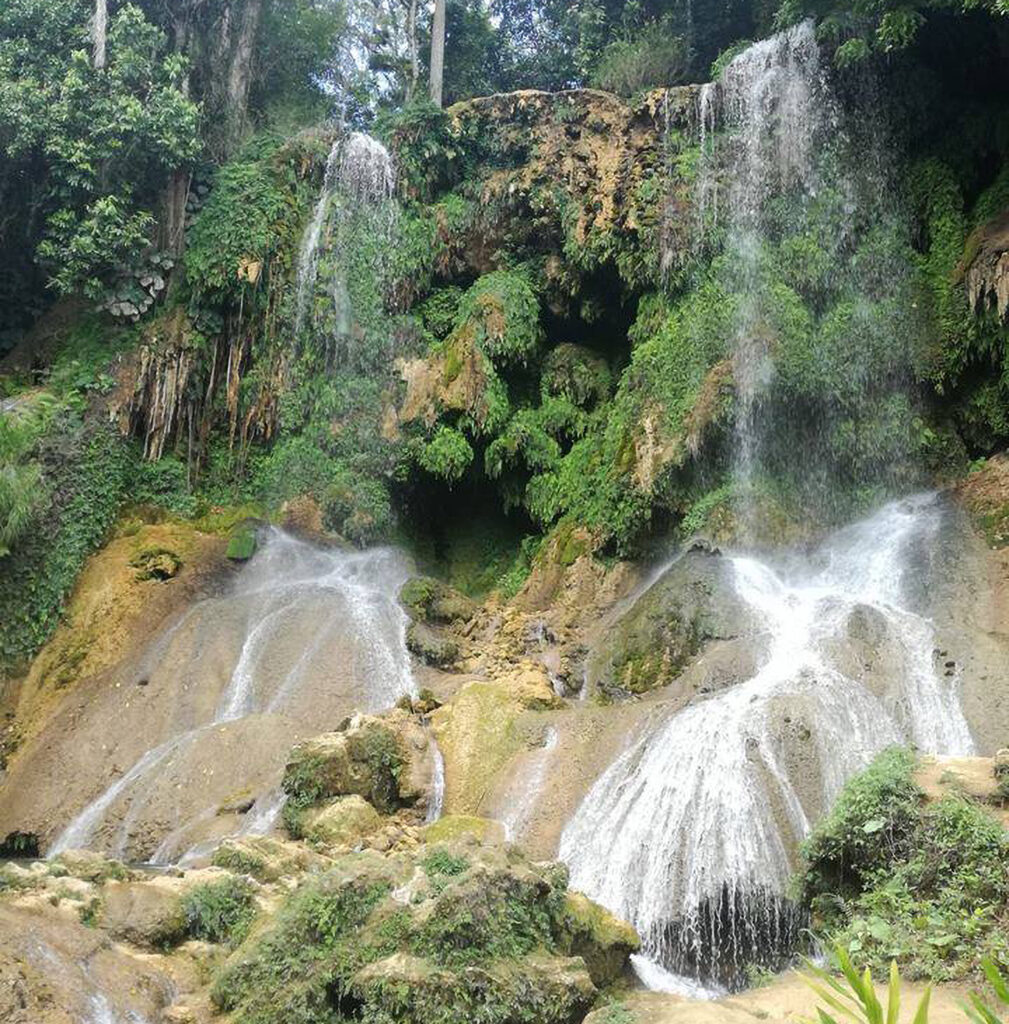 Do you enjoy taking a ride on a rollercoaster? If so, you will enjoy the drive up to El Nicho Waterfalls Cuba. The road is reportedly much better than it used to be. But you wouldn't want to imagine just how it used to be. Sharp curves will have you bouncing out of your seat, lurching from side to side you'll be grateful for a  seatbelt. Most excursions to this resplendent slice of Cuban countryside leave from Cienfuegos . This town of 150,000 people is a little over 2.5 hours from Havana by car. From here the ride to the waterfalls should take around two hours.
Although El Nicho is not as spectacualar as the Victoria Falls, you'll encounter an undeniable tranquility here. Even during the warmer months when there are a fair few other people who had the same idea. So what can you expect when you come to El Nicho?
A Natural Water Park
The El Nicho Waterfalls Cuba is kind of like a natural version of a water park. There is a small entrance fee which is covered by the price of some tours. There are even a number of small bars and kiosks selling basic yet delicious food. As well as a wide array of drinks.
There are a series of small waterfalls and natural plunge pools to frolic in. But there are also a number of nature hikes in the countryside around the falls themselves. They are not difficult walks, since there are only around 1.5 km of paths here.
Arrive Early in the Day to Avoid the Crowds
The main plunge pool at the highest waterfall is higher up the slope. It unfortunately gets rather crowded during the peak summer period. There will be a mixture of visitors and locals, all looking to cool off from that infamous sultry Cuban heat. It's best to arrive early in the morning or in the evening in summer months to avoid the crowds!
The El Nicho Waterfalls Cuba are popular but let that put you off, they are well worth seeing!
El Nicho Waterfalls Cuba: Many Plunge Pools
Make your way down the slope, following the water as it cascades downwards. There's a path so you'll easily find your way. There are two smaller plunge pools further down from the main pool and these are generally less crowded than the larger ones. Thus allowing you to cool off and enjoy the beauty of the area without having to share your personal space. But all the swimming areas are large enough so you will certainly be able to find your own quiet corner in one of them.
Please Be Careful While Exploring
Cuba is gloriously undeveloped in many areas and this is part of its undeniable charm. This is very evident when you visit the El Nicho Waterfalls Cuba. The path and steps are often carved directly into the rock and they can become slippery.
So, we ask you please exercise caution when you're exploring. Some portions of the park might not be suitable if you have any mobility issues.
Eating and Drinking
While there are limited facilities in the park there are a few things you need to take care of yourself. So along with your swimsuit and towel you need to bring some mosquito repellant. Repellent is difficult to buy in Cuba so pack some in your suitcase. You don't need to bring food or drinks unless you want to.
The dining facilities close to the El Nicho Waterfalls Cuba are refreshingly reasonably priced. When there's a captive market, prices tend to move upwards, but this is happily not the case here. There also are  a number of eateries located outside the entrance to the park.
Refreshing… But Cold
A word of warning about the El Nicho Waterfalls and swimming pools. The water is crystal clear and looks awfully tempting on a hot day. But it's in fact very very cold. The water is constantly in motion, meaning that it doesn't get warmed by the sun as other bodies of water can be.
Even the warm ocean currents mean that the sea is going to be warmer than the waterfalls here (and you're in Cuba, so it's practically a given that you're going to take a dip in the sea). So really what we're saying is that you perhaps shouldn't jump straight into the water after hiking through the park. It might seem like a good idea, but it can be quite a shock to your system. It's better to ease yourself into the cold, refreshing waters. You're going to be very happy that you did.
Isolated and Beautiful
The El Nicho Waterfalls are not exactly a hidden secret (as you can notice during the summer months) and yet they offer a glimpse of Cuban nature that many visitors don't get to see. It's a little off the beaten track, but this isolation gives it an added beauty, like you're going somewhere that none of your friends or family will even know about. Yes, the ride out there can feel a little bit daunting, but it's certainly worth the effort. And that car drive up and down the winding roads that lead to the waterfalls is an adventure in itself!
If you like this article, please click the link to share it with your friends or leave a comment!