If there's one place on earth where you should jump at the opportunity to go scuba diving, it's Cuba. Here we outline the best scuba diving in Cuba. There are few boats, so the water is crystal clear and many of the beaches are protected by a coral reef. So what are some of the best places to go scuba diving in Cuba?
1. Isla de la Juventud, Just You and the Turtles
The jewel in the crown when it comes to scuba diving in Cuba has to be Isla de la Juventud. This is an island some 50 km off the mainland, and the name translates as the rather intriguing Isle of Youth. It's only regularly accessible by ferry, which takes about six hours. Or three hours if you opt for a more expensive catamaran service. The whole island is wonderfully unspoilt. When you put on your scuba mask to gaze beneath the azure blue sea, you'll find it's probably just you and a few turtles.
2. Don't Think About Sharks: Jardines de la Reina
Located near the Port of Jucaro, you'll be diving in a marine park, making it the best scuba diving in Cuba when it comes to spotting marine life. If you're scared of sharks, then perhaps this dive is not for you, since there can be a fair few of them lurking beneath the water. For everyone else, it's best to go between November and April, when fish stocks are at their highest in the park. It's a dive that is suitable for novices as the currents are quite mild.
3. Reef Scuba Diving in Cuba: Holguín
There are actually a few different dive sites along the coast of the Holguín province, so you're better off choosing one that is convenient in terms of your accommodation. There's an abundance of things to see, since Holguín province is home to the second biggest coral reef in the world. It's second only to Australia's Great Barrier Reef, but when you dive in Holguín you can enjoy the majesty of a gigantic reef without having to fight hordes of fellow visitors.
4. Leave the Hotels Behind: Cayo Coco
The island of Cayo Coco is linked to the Cuban mainland by a 27 km bridge. It connects to the mainland for easy access to the islands many luxury hotels. There's a reef just off the island and here the waters are generally calm. Be aware although it's known to get a bit rough in October and November.
5. Dive at the Historic Bay of Pigs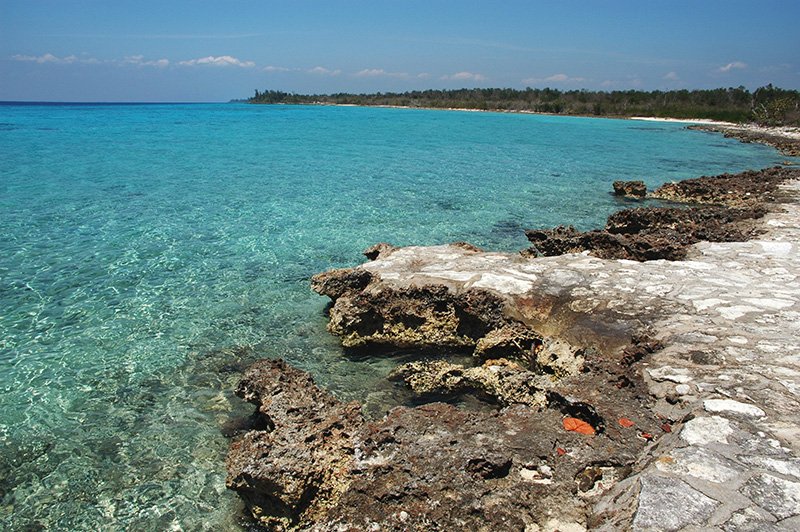 This infamous location of the failed US invasion is now one of the most popular places to go scuba diving in Cuba. Here lie glorious coral gardens on the seabed when the water reaches around 5 to 6 metres. When conditions are favourable visibility is around 30 metres. This is good for more beginners and seasoned divers as well as it makes for a leisurely day out.
6. Dive into History: USS Merrimac, Santiago de Cuba
Advanced divers might wish to chek out the mouth of Santiago de Cuba's harbour. Here 22 metres down is the final resting place of the USS Merrimac, a US steamship that was deliberately sunk in July 1898. The ship was scuttled during the Spanish-American War. It was in an effort to prevent Spanish ships from leaving the harbour. It's a magical experience, but the currents are strong, so this is a dive only for those with considerable experience.
One of the key appeals of diving in Cuba is the unrivaled serenity that can be experienced. Even in the more popular dive locations, the groups are small. So you simply won't encounter the large scale ecotourism found in other parts of the world. Cuba truly is a scuba diving paradise.