Adventures in Cuba zip-lining hiking and more! Cuba offers a uniquely diverse landscape and a rich cultural tapestry. The country provides a wealth of exciting opportunities for adventure seekers from zip-lining or scuba diving. Not to forget hiking through the lush tropical forests of Viñales. There is no shortage of thrilling experiences to be had in Cuba.
In this article, we'll explore some of the best adventures in Cuba, including zip-lining, hiking and more.
Best Adventure Activities in Cuba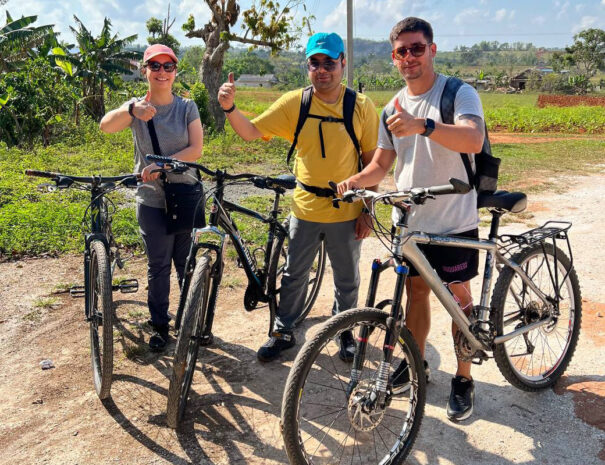 Zip-Lining in Las Terrazas
For an adrenaline rush, consider zip-lining in Las Terrazas located in the Sierra del Rosario Mountains This UNESCO biosphere reserve, is approximately a two-hour drive from Havana. The zip-line course guides you through the lush forest canopy, providing breathtaking views of the surrounding landscape. The course offers a variety of different lines. The most exhilarating is the "Superman" line, where you zip-line face down like the superhero!

Hiking the Topes de Collantes National Park
Nestled in the Escambray Mountains, Topes de Collantes National Park boasts breathtaking natural beauty. Its trails wind through lush forests, past sparkling waterfalls, and offer sweeping views of the valley below. With trails of varying difficulty, there's something for everyone. One of the most popular is Sendero El Caburní, which leads to the refreshing Salto del Caburní waterfall, inviting you to take a revitalizing dip.
For enthusiasts of underwater adventure, scuba diving in Varadero is an absolute must in Cuba. Situated on the Hicacos Peninsula, Varadero is renowned for its crystal-clear waters and diverse marine life. The area offers numerous dive sites, including Coral Beach, teeming with vibrant coral reefs and a variety of fish species, and Cueva de Saturno, a deep cenote with transparent waters and underwater caves to explore. Additionally, if you haven't obtained your PADI open water certificate yet, Varadero provides an excellent opportunity to do so.
Adventures in Cuba: Cycling in Viñales
Viñales, located in western Cuba, is renowned for its captivating natural beauty and tobacco fields. Furthermore, exploring the town and its surrounding countryside by bike is highly recommended. With several cycling routes available, you can embark on a picturesque journey through the Viñales Valley. Along the way, make stops to visit local tobacco farms and savor the breathtaking views of the limestone hills.
Horseback Riding in Trinidad
Nestled in central Cuba, Trinidad is renowned for its vibrant nightlife and colorful streets. Beyond that, it's an excellent destination for horseback riding. Trinidad offers various horseback riding tours, including a scenic ride through the Valle de los Ingenios. Here, you can explore the remnants of old sugar plantations and relish the breathtaking views of the surrounding mountains.
Kayaking in the Bay of Pigs
The Bay of Pigs is not only a renowned destination for snorkeling and diving but also an excellent spot for kayaking. Encircled by mangroves, it provides a distinctive chance to observe the local wildlife, including flamingos, crocodiles, and various bird species.
Adventures in Cuba: Caving in Matanzas
Situated in western Cuba, Matanzas  is celebrated for its natural beauty and storied history. Within the province lies several caves, among them the Cueva de Bellamar, one of Cuba's oldest and most frequented. Here, visitors can marvel at the striking stalactites and stalagmites, meandering underground rivers, and witness a captivating natural light show.
Kitesurfing in Guardalavaca
Located on Cuba's northern coast, Guardalavaca is renowned for its clear waters and unspoiled sandy beaches. Moreover, it's a popular destination for kitesurfing, offering numerous schools and rental shops. The best time for kitesurfing in Guardalavaca is from November to April, when the waves are strongest.
Situated off the northern coast of Cuba, Cayo Coco is a small island celebrated for its exquisite beaches and diverse marine life. This spot is a favored destination for fishing, offering a variety of fish species including tarpon, snook, and bonefish. There are numerous fishing charters in Cayo Coco, providing options for both full-day and half-day trips.
Being the capital of Cuba, Havana is renowned for its vibrant architecture, lively culture, and lively nightlife. Furthermore, it provides ample chances for biking, with numerous rental shops available. Notable routes include the Malecón, which offers a picturesque coastal drive, and the Vedado neighborhood, celebrated for its elegant mansions and tree-lined streets.
Best Places For Adventure in Cuba?
In conclusion, for adventures like Zip-Lining, Hiking and more, Cuba stands as an excellent destination for adventure travel enthusiasts. Options range from zip-lining in Las Terrazas to scuba diving in Varadero, providing an array of thrilling activities. Whether you're an adrenaline junkie or simply seeking a new approach to appreciate Cuba's natural allure, ensure these adventures find a place in your travel itinerary.