Introduction – what do you need to go to Cuba?
Cuba is a unique destination with a whole series of reasons to make visiting top of your bucket list, from incredible architectural sights and fantastically welcoming locals to its astonishing revolutionary history. But there's lots of misinformation out there on what preparing for a trip to the island entails. So if you're scratching your head and asking 'what do I need to go to Cuba' read on! Here we explain the six simple steps to visiting – even if you hold a US passport!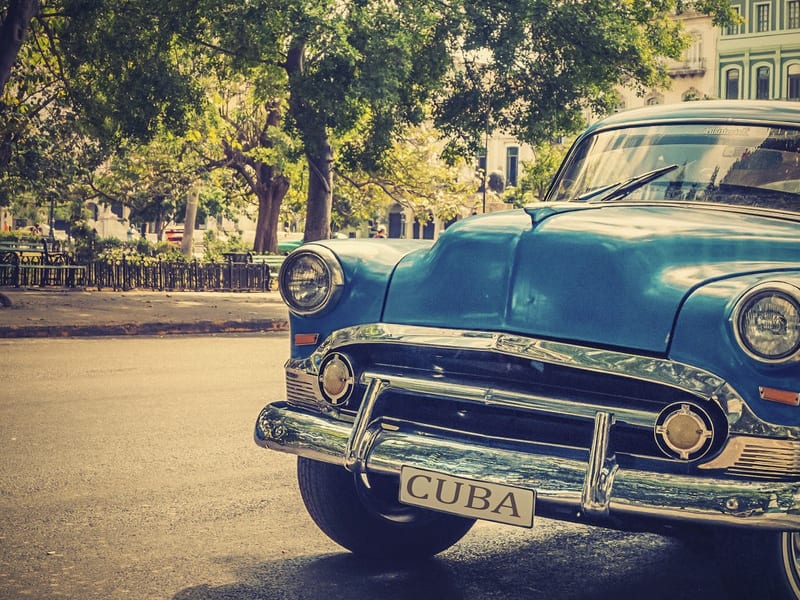 Step 1: Pick an approved category of travel (US passport holders only)
The great news is that if you don't hold a US passport you can skip our first step – making a visit to Cuba even easier!
For those who do have a US passport, don't worry, even with recent changes in policy this first step of what you need to go to Cuba is still really easy. The US government requires any American choosing to visit Cuba to pick an approved category of travel, which you'll need before continuing onto our next steps. There are 12 in total, and 11 permit independent travel.
We list the 12 categories below, although the vast majority of visitors use the Support the Local Cuban People category, which essentially means you're focused on meeting and interacting with the Cuban people and will be staying in locally-owned accommodation and eating at locally-own restaurants:
Support the Local Cuban People
Family visit
Professional research / professional meetings
Official business of the U.S. Government, foreign governments or certain intergovernmental organizations
Journalism
Religious activities
Public performances, clinics, workshops, athletic or other competitions and exhibitions
Humanitarian projects
Activities of private foundations or research or educational institutes
Exportation, importation, or transmission of information or informational materials
Travel related to certain authorized export transactions
Not available for independent travellers:
Educational activities and people to people exchanges
Step 2: Book your flight
There are no limitations to when or which airport in Cuba to fly too – its all completely up to you. Check out the best time of year to visit the island for your areas of interest, and then head to your favourite flight comparison site or airline website.
Most flights arrive at the main international airport in the capital, Havana, although it's also possible to reach cities including Santa Clara, Camaguey, and Cienfuegos if you're flying from the US.
Step 3: Book your accommodation
Forget giant hotels, the best way to experience the spirit of Cuba and its people is by making use of the ever-growing collection of casa particulares. This bed and breakfast style option is unique to Cuba, and sees individual families creating a small number of rooms, sometimes in their own home, for visitors. It means each are completely different to one another, offering a variety of amenities, but one thing you can guarantee is a friendly welcome and spotlessly-clean private space.
Casas are increasingly easy to find online, making this step of what you need to go to Cuba another simple one. More basic rooms in family homes starting at around $25/night, with the luxury end coming in at $75-150/night.
If you are taking a tour in Cuba, your tour operator will be able to recommend and include accommodation as part of your package.
Step 4: Get your Cuban Tourist Card
All visitors to Cuba need a Cuban Tourist Card, sometimes alternatively called a tourist visa. Issued by the Cuban government, its simply a short card you buy and fill out with your details.
Departing from the US, even as part of a layover (and whatever your nationality), you'll want to fill out the pink version of the card. They can be purchased from your airline, or from online visa specialists.
Departing from any other country (without a US layover) you want the green version of the Cuban Tourist Card, which is sometimes included in the cost of your air ticket, so check with your chosen airline.
If however you'll be reaching Cuba from Mexico or Latin America, tourist cards are sold at airports here, either from a dedicated counter, or from the airlines direct. Just ask when you get to the check-in desk!
Step 5: Create an itinerary
Believe it or not, an itinerary is another step in what you need to go to Cuba, at least if you're a US citizen (or flying to Cuba from the U.S.). A legal requirement for US passport holders, you've probably done this already in any case while planning what you want to see of Cuba's gems. The itinerary is just a basic list of the things you'll be seeing and doing each day in Cuba, and acts as a 'proof' that you travelled to Cuba under the correct category of travel.
Make sure you take a paper print out of your itinerary. You may be asked for it on your return to the US by immigration officials there, although recent evidence suggests it's almost never asked for.
Step 6: Make sure you have enough cash
Cuba remains a cash society, so you'll need enough cash to get you through your entire stay on the island. There are credit and debit card facilities creeping in to larger establishments, however they don't always work on a practical level, and definitely won't function if American due to the ongoing trade embargo.
Even so, the best currency to opt for is the CAD$, GBP£, Euro or€ US dollar. There is a 10% surcharge if exchanging USD$ in Cuba.
To ensure you're taking enough hard currency, you'll need to create a rough budget. You'll need approximately $60 per person per day for food, transport, and entrance fees excluding the costs of your accommodation. You can spend less than this if you are on a strict budget. You can also spend more than this, depending on how you like to eat, drink and shop.
That's it! You're all set! Follow these simple six steps of what you need to go to Cuba and you won't believe how easy a trip to the Caribbean's most beguiling country can be!